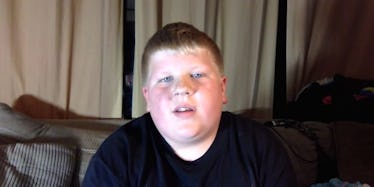 11-Year-Old Reading Mean Comments About Himself Will Bring You To Tears (Video)
The comments section of a YouTube video is essentially a place where all the Internet's biggest trolls congregate and say the most hateful things they can think of.
Sometimes these comments can be funny, and sometimes they can be disturbing; regardless, reading such comments as a third party makes it easy to forget there's a real person being targeted.
Logan Fairbanks makes frequent appearances on his dad's YouTube channel -- which mostly consists of videos of them pranking each other -- and consequently, Logan has become the subject of disturbing online hatred.
In an attempt to stop online bullying and help those who have been targeted online, he asked his dad to make a video of him reading some of these comments.
Listening to the comments is truly heartbreaking, and knowing someone would say things like that to an 11-year-old is unfathomable.
Some of the comments include,
He looks like such a stupid fatso. I hope he gets cancer. I hope that he dies.
In the video's description, his dad wrote,
As his dad I was very hesitant but he insisted that if there was a chance it could help someone then why not face his online bullies and try. I hope one day I have as much courage as he does.
Logan making this video was a very brave choice, and while online bullying is an epidemic no one can seem to eradicate, hopefully, this video will bring some much-needed attention to the issue.
Citations: This 11 Year Old Reading Cruel Fat Shaming YouTube Comments for the First Time Will Break Your Heart (Cosmopolitan)