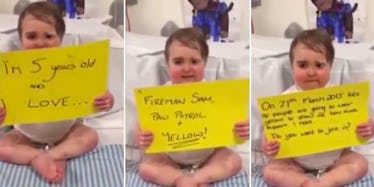 5-Year-Old Boy With No Immune System Wants You To Wear Yellow For Him
On Friday, March 27, we urge you to wear yellow. No, it's not for a holiday. And it's not for welcoming spring. Instead, it's to honor Seth Lane, a 5-year-old boy who struggles to live without an immune system.
For the majority of his young life, Seth has been confined to a sterile room, unable to enjoy the world as a normal kid.
Caused by a gene mutation, Seth's lack of an immune system leaves him unable to fight off even the most benign germs. Something as simple as going outside could kill him.
Ensuring his health and safety requires taking extreme precautionary measures, including barring visitors who show any sign of infection and making sure everything that enters the air-filtered room is sterilized to hospital specifications.
Most of the time, he's alone.
His mom admits,
It's hard for him. And he's getting bored.
The only hope for the little boy is receiving a bone marrow transplant. After one failed attempt, Seth awaits a second transplant at Newcastle's Great North Children's Hospital in the UK.
The little fighter made a heartbreaking video to raise awareness for his disease, in which he urges viewers to wear his favorite color -- yellow -- on March 27 and post a picture to social media with the accompanying #WearYellowForSeth hashtag.
If the surgery proves successful, Seth will be able to live, for the most part, like a normal child.
Show your support for the brave 5-year-old by wearing your best yellow next Friday. It may not seem like a big deal, but for Seth, it is -- and he deserves to know how many people care about him.
Learn more about the little fighter here. We're rooting for you, Seth!
Meet Seth.
He's 5 years old and has no immune system.
He wants the world to wear yellow for him.
For most of his life, Seth has been confined to a hospital room.
He's barely allowed to interact with others because of his sickness.
He's awaiting a bone marrow transplant at the hospital.
If it proves successful, he'll be able to have a relatively normal life.
On March 27, #WearYellowForSeth to support this cutie pie.
Please?
Citations: The Little Boy Who Lives In A Bubble Viral Video Shows Five Year Old Confined To Hospital Bed Making Heartbreaking Plea For The World To Wear His Favorite Color Yellow (Daily Mail)