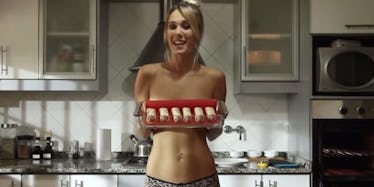 Female Chef Is Taking Over The Internet With Her Naked Cooking Shows
In my opinion, most activities are more enjoyable when done naked.
Cooking, however, with the looming potential of a hot oil splattering on the nether regions, is not one of those activities.
Chef Jenn is one of the brave few to take that risk.
Better known as The Naked Chef, the 24-year-old Argentinian recently launched her own YouTube show, in which she cooks -- you guessed it -- naked. Well, as naked as YouTube allows.
While nudity is often synonymous with sexuality, that's not why Jenn bakes in the buff. Instead, it's her clever way of spicing up what could otherwise be bland content to "show [people] that cooking is fun."
Unsurprisingly, it's worked: Her week-old YouTube channel, A Fuego Maximo, already boasts an impressive 20,000 subscribers.
So far, there are three videos in the series, which you can watch below. (And learn from, if you speak Spanish).
#1: Salchichitas Envueltas (Pigs in a Blanket)
#2: Ensalada (Salad)
#3: Guacamole
Citations: Argentinas Very Own Naked Chef Takes It To A Whole New Level (Daily Mail)