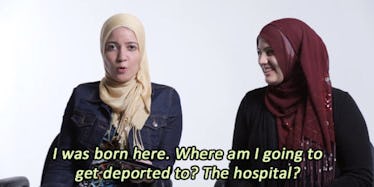 American Muslims Perfectly Respond To Terribly Racist Facebook Comments (Video)
In late April, a mosque in Tampa Bay, Florida made national news after a fire destroyed the building's attached daycare center.
Though the daycare completely burned down, all 60 children and the staff managed to escape unharmed.
But when a local news station posted the story on Facebook, dozens of hateful Islamophobes took to the comment section to express their dissatisfaction with the situation's fortunate outcome.
To bring the idiocy of these ignorant remarks to light, activist group Peace House asked several local Muslims to read the comments on camera, and the reactions were compiled into a video.
Because many of the offensive comments were extremely stupid, the participants, apparently amused, mostly made fun of the commenters and looked for the humor in the hatred.
Though I appreciate the participants' refusal to validate the commenters' insults by taking them seriously, I personally have a hard time finding the video funny: The comments are truly horrifying.
Still, you have to give these guys and gals credit for turning the tables on the ignorant commenters; it's something I personally would probably not be able to do.
Check out the video up top, and you can learn more about Peace House here.
Citations: Watch These American Muslims Read Hate Comments About A Burnt Down Mosque Daycare (BuzzFeed)