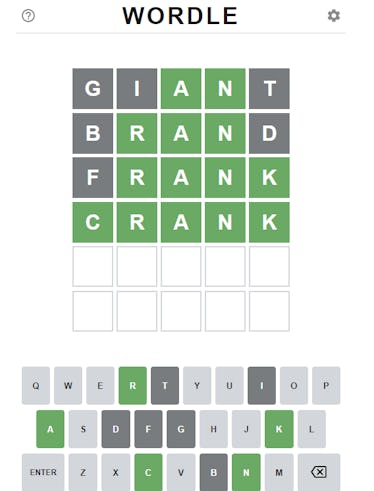 6 Wordle Tips And Tricks That'll Make Solving The Puzzle So Much Easier
Get the most out of your guesses.
Wordle was the hot topic of conversation as 2022 kicked off and its popularity has only grown. Whether or not you've joined in on the fun, odds are, you've heard of the word puzzle game by now. Since the game only gives you six tries to guess the right five-letter word, you may not always solve it. If you're hype about the game but want to learn how to get better at playing it, here are the best Wordle tips and tricks to help you feel like you've hacked the game.
Wordle's squares and scores started trending on Twitter in late December 2021 when the "share to Twitter" feature launched, and there was a massive spike in shares in January 2022. Software engineer Josh Wardle first created the game in October 2021 for his partner, Palak Shah. However, once his inner circle started playing it, it was clear to him he'd created something other people would like to play. Cut to a New York Times interview and numerous tweets raving about the game, and Wordle was solidified as a viral hit.
The game gives you six chances to guess the five-letter word of the day, and the puzzle resets daily. When you enter a word, you'll see squares of colors corresponding to what's in the answer word. So, for example, when a square is green, you have the correct letter in the right spot, whereas a yellow square means that the letter is in the answer word, but you don't have it in the correct place. Finally, a gray letter means it isn't in the answer word. For those who haven't played the game yet, you'll need to head to the official website and give it a try.
Whether you've been playing for a while or you're just starting, here are some of the best tips and hacks to help you become a pro solver.
Once you've played Wordle a few times, you're set to become a pro with these tips.