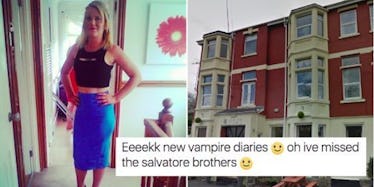 Woman Shares Haunting Post On 'Vampires' Days Before Cannibal Eats Her Face
Social Media/Google Maps
A young woman was murdered by a man who was discovered "chewing her face" in a hotel room, an inquest jury has heard.
Cerys Yemm, 22, was "horrifically" killed by 34-year-old Matthew Williams in the Sirhowy Arms Hotel in South Wales.
Williams died that same night after being hit by a police taser when officers attended the scene.
Williams was found "eating" Cerys' face by hotel owner Mandy Miles in November 2014.
The brutal killing took place days after Cerys' final Facebook post in which she said she was looking forward to watching "The Vampire Diaries."
Miles described the horrific scene in a shocking emergency call to police that was played at the inquest.
She told the call handler Williams "put a screwdriver through someone's face."
She said,
He's shoving a screwdriver in her face. He's actually chewing her face. I went into the room and he's killed her. Oh my God. Is this real? There's blood everywhere and it looks like something from a horror film.
As other hotel guests gathered outside the room, Miles can be heard warning them to stay away while requesting for police to come to the murder scene.
At the inquest, she reiterated her belief Williams was eating Cerys even though "science has proved he wasn't."
In the panicked call to police, she added,
It's awful. His name is Matthew Williams and he's in room seven.
After the emergency call, the operator called officers and told them, "This is genuine."
A Paranoid schizophrenic, Williams was released from prison without medication and supervision just two weeks before the incident.
Cerys' body was found covered in blood lying underneath Williams, who died when police arrived at the scene in the early hours of the morning.
The inquest was also told he had been on an alcohol and drugs binge the previous day.
The inquest continues.
Citations: "He's eating her": Landlady feared killer was CANNIBAL after barging into hotel room to see him 'chewing' woman's face (Mirror)