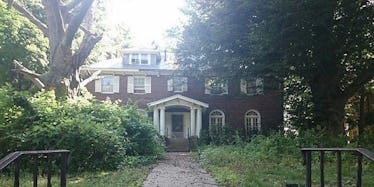 Hoarder Lives With Missing Sister's Dead Body Rotting In Kitchen For 18 Months
Zillow
Some people hide skeletons in their closet. Others prefer to keep them in their kitchen.
Case in point? Lynda Waldman.
Hope Wheaton, a 67-year-old who has been missing for a year and a half, has just been found dead in the house she resided in with her sister, 74-year-old Lynda Waldman.
The Boston Globe reports a cousin visiting the $1.2-million home in Brookline, Massachusetts discovered the decomposing body amidst heavy clutter in the kitchen.
Records from the Norfolk District Attorney's Office show the woman died some time during summer 2015. This means the lady has been living with her missing sister's dead body rotting in the kitchen for more than 18 months.
While the medical examiner has yet to release the cause of Wheaton's death, officials claim the woman's body shows no clear signs of trauma.
Police have not charged Waldman with any crimes related to the incident. But there is still no word as to why the woman failed to call the police when her sister passed away.
Waldman's neighbor, Harriet Allen, told the The Boston Globe she "always asked" Waldman what had happened to her sister, but "she would ignore it."
According to Allen, the sisters – who were both unmarried – "never came out" of their home and tended to be "recluses."
Allen also added Waldman is "a very bright woman, very well-read, very up on the politics of the day, to this day" and Wheaton was "bright and alert and fun."
The sisters' home was built in 1920. Although it is described as being under "fair" condition on the town's property records, Allen claims that's not the case.
The neighbor said the house is in "total disrepair," and even has all the windows covered up.
A spokesman for Norfolk District Attorney Michael W. Morrissey – David Traub – commented on the incident, saying officials don't have any "evidence of wrongdoing at this point."
Traub also added there is no "evidence of foul play."
Neither Waldman nor Wheaton's relatives could be reached for comment.
Citations: Decomposed body of woman, 64, who vanished 18 months ago is found in the clutter-ridden kitchen of the $1.2million mansion she shared with her 'recluse' sister (Daily Mail)