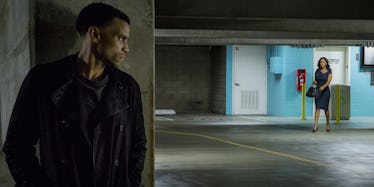 Woman Run Over By Jealous BF After He Uses Phone App To Track Her Down
Screen Gems
A British woman was run over by her boyfriend after his jealousy drove him over the edge.
Louise Conyers, 23, met Steven Conners, 28, at a party in January 2014 and was quickly attracted to his "sweet" and "gentle" nature.
He even bought her roses and a necklace just two months into their relationship.
It was also around this time, however, Steven began obsessively calling and texting to see where she was. To appease him, Louise gave up her Facebook password and downloaded a phone-finder app so Steven could know where she was at all times.
The two had been dating for five months when Steven randomly showed up to a girls' night Louise was having.
She was "flattered and thought it was sweet," but then, he did it again the following month.
According to Daily Mail, Louise said,
I was just having a girly night with a mate, having a few glasses of wine and watching DVD's when Steven appeared. I refused to talk to him and my pal told him to go home.
Louise decided she had enough when Steven used the phone tracker to find her at a friend's house yet another time, Daily Mail reports.
She said,
I wouldn't go to the door and my friend told him to go away. But it really irritated me, and after I left my mate's house, I wanted to talk to him, make him understand he couldn't carry on behaving like this otherwise we would be finished.
Louise went to Steven's house, but he told her he wasn't home despite his car being there.
She reportedly threw a rock through his car window in a fit of rage and texted him to say she was leaving. After sending this text, a car sped up from behind Louise, struck her and sent her flying into a wall.
Louise reportedly said,
Another driver had called the police and rushed over to me to check how I was. Steven appeared by my side too looking all concerned but denied he knew me at all.
Responding officers arrested Steven, who pleaded guilty to inflicting grievous bodily harm last February.
According to Daily Mail, court doctors claimed Steven exhibited "psychopathic traits" before he was sentenced to six years in prison.
The car attack left Louise with a severely broken leg, in addition to many cuts and bruises.
She reportedly said,
Every time I closed my eyes I had flashbacks and couldn't believe that nice, quite, shy boy I'd fallen for had hurt me so badly.
Steven was also banned from driving for years and cannot come in contact with Louise due to a restraining order.
He reportedly told the court he still loves Louise.
Citations: Student reveals how her 'geeky' boyfriend mowed her down with his car after using a phone app to track her every move (Daily Mail)