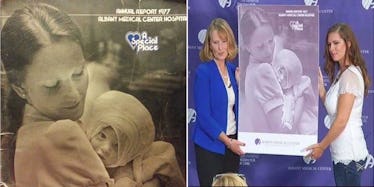 Woman Meets Nurse Who Helped Her As A Baby After Surgery For Bad Burns
A woman reunited with the nurse who comforted her as a baby after she had surgery for severe burns.
When Amanda Scarpinati of Athens, New York was 3 months old, she fell off a couch onto a steam vaporizer and was critically burned by melted mentholated ointment, according to Daily Mail.
She underwent surgery at Albany Medical Center. After surgery, she was put into the care of a 21-year-old nurse named Susan Berger.
A precious bond between the patient and the nurse was solidified when the two were photographed as Berger lovingly cradled Scarpinati, whose body was covered in bandages.
The photos were featured in Albany Medical Center's 1977 annual report, but the report did not mention Berger's name.
The photos were taken inside the facility's pediatric recovery room.
Daily Mail likened them to "Madonna and Child" paintings.
Scarpinati had several more surgeries throughout her life.
Now 38 years old and the mother of a 12-year-old, Scarpinati has been trying for 20 years to track down the nurse who cared for her.
She told Associated Press,
Growing up as a child, disfigured by the burns, I was bullied and picked on, tormented. I'd look at those pictures and talk to her, even though I didn't know who she was. I took comfort looking at this woman, who seemed so sincere, caring for me.
She posted the 1977 photographs to Facebook earlier this month, and it was only a matter of hours before they went viral.
The next day, a woman who used to be an Albany Medical Center nurse messaged Scarpinati on Facebook and gave her the name of her former colleague.
Susan Berger was located by a local television news reporter soon after.
She and Scarpinati spoke on the phone before their emotional reunion at Albany Medical Center's conference room on September 29.
Scarpinati was delighted to find Berger had the "gentle, caring voice" she envisioned.
She said to Berger, "Oh my God, you're real!"
Of Scarpinati, Berger told Associated Press,
I remember her. She was very peaceful. Usually when babies come out of surgery, they're sleeping or crying. She was just so calm and trusting. It was amazing.
Berger currently supervises the health center at Cazenovia College near the Finger Lakes.
Many other nurses cared for Scarpinati since she was a child, Berger said, so it gives her great honor to represent them all.
Scarpinati claimed, even though she didn't see Berger for about 38 years, their bond persisted nonetheless. She said,
It already has been a lifelong friendship. She just didn't know.
Berger, who just graduated from college when she first met Scarpinati, will reportedly be ending her career in the near future.
Citations: Oh my God youre real Woman who suffered severe burns as a baby is finally reunited with the nurse who cradled her in touching black and white photos taken 40 years ago (Daily Mail), BURNED AS BABY, WOMAN FINALLY MEETS NURSE WHO CARED FOR HER (Associated Press)