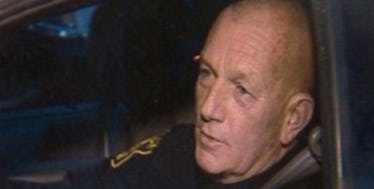 Woman Secretly Records Cop Asking Her For Nude Pics: 'I'll Pay You For It'
News Channel 5
A police officer from South Carthage, Tennessee, is in serious trouble after a woman secretly recorded him asking her for nude pictures.
Elizabeth Restrepo, a store clerk, claims the on-duty police officer, Frank Geisenhoffer, made repeated advances on her while she was working at the retail store.
Restrepo also alleges Geisenhoffer showed her a video that captured him masturbating.
As the cop continued to harass her, Restrepo decided enough was enough and started recording his indecent requests.
The recordings were later obtained by NewsChannel 5 and broadcasted to the public.
As a result of the secret recordings, Geisenhoffer was suspended for two weeks without pay and put on probation for one year.
In one of the recordings, you can hear Geisenhoffer tell the store clerk,
I don't do big girls. Don't have to — not with this dick. You do look good baby. Fucking hot!
He also made an inappropriate comment about Restrepo's nipples and said he was upset she had not given him nude pictures for his birthday.
If that's not enough to make you gag, Officer Geisenhoffer even asked Restrepo to give him a video that showed the store clerk pleasuring herself.
Restrepo recorded the police officer saying,
If you ever were to do that, give me a video. I'll pay you for it. I will owe you big.
It doesn't end there, either.
After seeing Restrepo's sister on Facebook, the pervy police officer asked for a photo of the sister's breasts, saying, "Get me a picture of those titties."
According to Restrepo,
I tried to laugh it off, I didn't try to stop it because of who he was and I didn't know what to do. I didn't know what to say. I didn't know what to do. I honestly, I think my mind went blank, like, 'Wow, did that really just happen?'
Restrepo presented the audio evidence to the South Carthage Police Department and filed a complaint against Geisenhoffer back in December.
In a written statement submitted to his chief,
Geisenhoffer allegedly admitted to the woman's accusations, but said he led him on and sent him inappropriate pictures first.
Restrepo denied the officer's allegations.
Citations: Police officer is recorded repeatedly demanding nude pictures of store clerk and her sister after he showed her a video of himself performing a sex act (MailOnline), Cop's Indecent Requests Caught On Secret Recordings (News Channel 5)