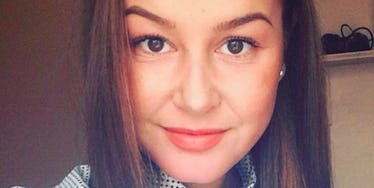 Woman Pours Boiling Water Over BF's Friend For Getting Involved In Their Fight
Facebook
Note to self: Do not get between Konstancija Tairova and her boyfriend, Adomas Marengolas, because you will get burned.
At least that's what happened to Edas Juozenas last year when he tried to stop a fight between the two on Valentine's Day.
Apparently, Juozenas and Marengolas spent a night out together and arrived back at the couple's apartment early in the morning when all hell broke loose.
Marengolas and his crazed girlfriend, Tairova, had a "conversation" about their relationship -- and after Juozenas tried to intervene, Tairova poured boiling water over his face.
According to Prosecutor Molly Pinkus, their relationship was on the rocks.
She said,
It was seen that the relationship had either broken up or was in the process of breaking up. Mr. Juozenas was advising Miss Tairova not to fight with Mr. Marengolas.
Juozenas is a friend of both Tairova and Marengolas and was reportedly well aware of the issues the couple had.
Therefore, he advised the woman not to fight with her boyfriend, and then laid down on their couch with his eyes closed.
Moments later, 26-year-old Tairova took a kettle full of boiling hot water and began pouring it over Juozenas's face.
Pinkus claimed he was shocked upon feeling the scorching liquid, and said he used his right arm to block his face from the heated water before standing up and shouting in pain.
OUUUCH.
Moments after pouring the kettle full of hot water onto Juozenas's face, Tairova was pushed out of the apartment and taken by the police, who allegedly arrived 10 minutes later.
Juozenas, who suffered blisters and burns, was taken to Newham General Hospital.
Tairova is currently on trial for the crime. But according to a police report, she denied the attack and said Juozenas ripped her dress and pulled her while she tried to speak with her boyfriend.
She also claimed she fled the scene and still denies she caused bodily harm.
Juozenas, on the other hand, claimed he was unaware why Tairova would have poured hot water onto his face, but the burns serve as evidence for the case.
Citations: Girlfriend 'poured a kettle of boiling water over her partner's friend after he tried to stop the pair arguing on Valentine's Day' (MailOnline)