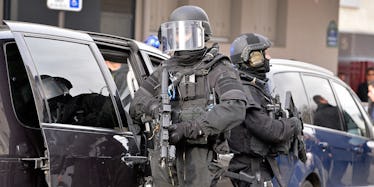 Woman Killed In Paris Apartment Raid Was Actually Not A Suicide Bomber
Getty Images
Contrary to reports thus far, the woman who was killed during Wednesday's raid in Paris did not blow herself up.
Three people were killed when French police entered a third-floor apartment in Saint-Denis: Abdelhamid Abaaoud, the alleged mastermind of the Paris massacre, Hasna Aitboulahcen, who was Abaaoud's cousin, and an unidentified man whose body was recently discovered under the rubble produced by several explosions.
Initial reports stated Aitboulahcen, 26, detonated a suicide vest.
But according to Daily Mail, French police confirmed Aitboulahcen died as a result of an explosion caused by someone else at the apartment.
Paris prosecutor Francois Molins reportedly said,
All I can tell you is that the kamikaze [suicide bomber] was not Hasna.
The unidentified man, whose body was discovered in rubble and who was first thought to be a woman, is believed to have detonated a suicide bomb, killing Aitboulahcen.
Police recalled Aitboulahcen, who did not appear to have been armed, yelling, "Help me, help me," before an explosion took her life.
The officers believed she was trying to lure them into a trap, though the suicide bomb failed to cause any serious injuries to police officers; only five of them sustained minor wounds.
Abaaoud, 27, was known to be in the apartment after police saw Aitboulahcen lead him inside.
Aitboulahcen's phone was previously tapped due to suspicion of drug-related crimes, and police used this surveillance to determine her location in Saint-Denis in northern Paris.
Belgian police are currently searching for Salah Abdeslam, the brother of a Paris attacker who detonated a suicide vest in the massacre that left 129 dead and injured hundreds more last Friday.
Citations: BREAKING NEWS: 'Cowgirl' cousin did NOT blow herself up... but died when third ISIS terrorist detonated suicide vest standing next to her in Paris siege apartment, police reveal (Daily Mail)