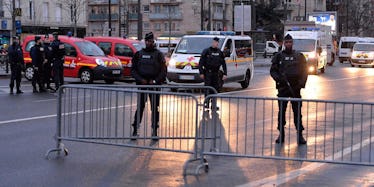 Police Discover Another Body At The Site Of The Paris Apartment Raids
Getty Images
A third body was discovered at the apartment where the mastermind of the Paris attacks was killed.
Over 100 police officers raided the Saint-Denis apartment early Wednesday in search of 27-year-old Abdelhamid Abaaoud, who is said to have orchestrated last Friday's massacre that left 129 dead and injured hundreds more.
Abaaoud, from Belgium, was shot dead and his female cousin, Hasna Aitboulahcen, blew herself up with a suicide vest.
According to New York Daily News, French prosecutors confirmed earlier today the body of another woman was found in the apartment during an overnight search for evidence.
The identity of the woman, whose body was unearthed from rubble produced by a series of explosions, has yet to be revealed.
Belgian authorities still hunt for 26-year-old Salah Abdeslam, the brother of a Paris attacker who self-detonated.
A lawyer representing Abaaoud's father said on Friday her client wished his son was taken alive so he could question him about the whereabouts of his younger brother.
Abaaoud reportedly persuaded his brother, Younes, to go to Syria and join the Islamic State when he was just 13.
The lawyer said,
The father hoped to understand how his son could have gone off the tracks, understand why he took Younes with him, where Younes is, and whether he's still alive or whether he's dead.
Earlier today, European Union officials met in Brussels to discuss tightening border controls.
Abaaoud was known as a member of the Islamic State, but he is believed to have avoided a proper security check when he returned to Europe from the Middle East, according to The New York Times.
Another Paris attacker allegedly used a stolen Syrian passport to enter Greece under the guise of a refugee.
Officials are expected to approve measures to expand security checks in regards to traveling from one EU nation to another, as well as entering the EU from outside its borders.
Citations: Mystery 3rd body found at scene of Paris apartment where ISIS mastermind was killed (New York Daily News), Third Body Is Found in Rubble of Police Raid Near Paris (The New York Times)