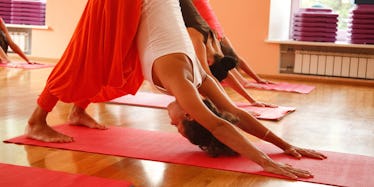 Woman Claims Her Free Yoga Class Was Suspended Due To 'Cultural Issues'
Shutterstock
Students at the University of Ottawa are outraged after school officials suspended a free on-campus yoga class, citing concerns about "cultural appropriation" as cause for the class' cancelation.
Yoga instructor Jennifer Scharf was notified of the class' impending termination in September, after seven consecutive years of teaching the ancient Hindu practice to interested students.
According to the Ottawa Sun, the Canadian university's Centre for Students With Disabilities complained to school officials about potential "cultural issues of implication involved in the practice," prompting the class' hiatus.
A rep for the organization said yoga has seen "a lot of controversy" lately, due to an ignorance of the "experienced oppression" of those who created the practice.
He or she added,
We need to be mindful of this and how we express ourselves while practicing yoga.
But Scharf and her 60 students disagree. The instructor told the newspaper,
The point [of the program] isn't to educate people on the finer points of the ancient yogi scripture. The point is to get people to have higher physical awareness for their own physical health and enjoyment.
She feels yoga should be accessible to those who wish to practice it and does not believe the concept of cultural appropriation is relevant.
She said,
There's a real divide between reasonable people and those just looking to jump on a bandwagon, and unfortunately, it ends up with good people getting punished for doing good things.
Scharf is working with the school to resolve the issue. She suggested changing the class' name to "mindful stretching," so as not to offend or encroach upon any culture, but officials rejected the proposal.
A rep for the university could not confirm if the class will be reinstated any time soon.
Citations: Universitys free yoga class is shut down over cultural appropriation fears after complaints from social justice warriors (Daily Mail), Free Ottawa yoga class scrapped over cultural issues (Ottowa Sun)