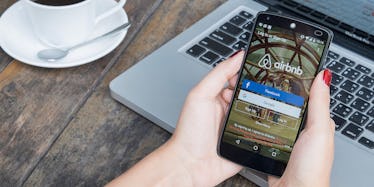 Woman Calls Out Airbnb Host Who Hit On Her In Creepy Messages After Booking
Shutterstock
So, you're planning a city break over the weekend and you're hyped to go exploring.
You book a room on Airbnb — because that's what everyone does now, right? Plus it's cheap AF.
The problem is you have no idea what your temporary roommate is going to be like, as an Australian woman discovered when her host sent her a creepy message after she paid to stay at his place.
The anonymous woman from Sydney told The Daily Telegraph she paid $76 (US $56) to stay for two nights in Melbourne.
I imagine she was already planning all the sweet spots she was going to hit up when she decided to message the host, named Ali, to double check that everything was OK.
Then, things got weird fast.
Ali decided that would be the perfect time to hit on his guest — revealing to her that he doesn't have a spare room, either.
He wrote,
I would to meet when are you arriving Melbourne to have dinner and on me. Because I just intrest to learn English not share a room.
Which is, clearly, NOT FINE.
Props to the guy for wanting to work on his English, though. (If that was his intention, of course. Maybe I'm giving him too much credit.)
Obviously, a vast majority of Airbnb experiences are positive, but it's pretty scary when a stay doesn't go as planned.
Like, this dude didn't even have a room. On Airbnb. That's kinda the idea.
The woman reported the profile to Airbnb, and a spokesperson said there was "absolutely no place for fake listings," adding,
We have removed this listing, banned the account holder and provided a full refund to the guest. More than 140 million guests have had safe, positive experiences on Airbnb, and while incidents are incredibly rare, we take them very seriously and move fast to deal with them. Our community is growing quickly because trust is the foundation of our business. We proactively encourage hosts to think carefully about their responsibilities, and our global Trust and Safety team works 24/7 to protect our community.
Citations: Creepy Airbnb host accepts booking then reveals ulterior motives (Daily Telegraph)