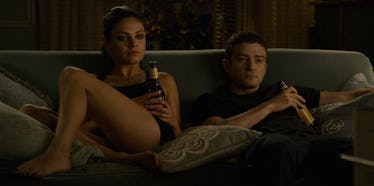 Woman Bites Off Husband's Ear During Argument Over Beer
Sony Pictures
A Minnesota woman has been arrested following an argument with her husband during which she bit off his ear.
It wasn't kinky foreplay gone bad, but rather, the St. Cloud couple was fighting over a beer, according to a criminal complaint filed in the Stearns County District Court.
(Last beer or not, she could have taken a more civilized approach to revenge.)
Stearns County Police responded to the domestic assault call where they found Jamie Elrod and her husband in shady situation.
The officers reportedly found Elrod's husband with part of his right ear missing, which they then found on the floor amongst blood.
According to the complaint, the victim told officers his wife had been arguing with him over a beer when she followed him into the bedroom and allegedly "went off."
When officers asked Elrod, who had been drinking, what happened to the victim's ear, she said she did not know. Since being held at Stearns County Jail, Elrod's incriminating phone calls reveal her admitting to biting off her husband's ear.
Jamie Elrod, 37, faces a first-degree assault charge and $30,000 bail bond.
Citations: Complaint: Woman bit off husband's ear over a beer (SC Times)