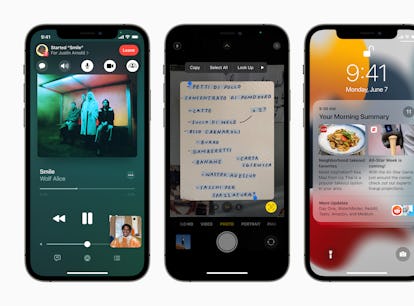 Apple's iOS 15 Update Is Coming To Most iPhones, But There's A Catch
It might be time to upgrade.
Apple unveiled what customers can expect with the iOS 15 update at its Worldwide Developers Conference (WWDC) on Monday, June 7. The latest operating system will come with plenty of new features, including spatial audio on FaceTime and SharePlay. Unfortunately, the software update, which will hit iPhones sometime in fall 2021, isn't fully compatible with some older iPhone models. If you're wondering if iOS 15 will work on an iPhone 6s, here's what you need to know.
The WWDC kicked off on Monday with a keynote address unveiling iOS 15. The update, which will launch in the fall, includes many changes to the operating system (more on that later), but some iPhone users won't get the full iOS 15 experience. According the iOS 15 preview page, all phones running iOS 14 are compatible with iOS 15, but there's a catch — some of the most exciting features are only compatible with iPhone XR and later. So while first-generation iPhone SE, iPhone 6s, and iPhone 6s Plus users can download the free update, there are some new iOS 15 features that require an A12 Bionic chip or later. When you download iOS 15, you'll need an iPhone XR or later to use:
Spatial Audio for FaceTime
Portrait Mode for FaceTime
3D landmarks in Maps
On-device Siri speech recognition
There are plenty of new iOS 15 features all compatible iPhone models will support, though, like a new Messages update that lets you share stacked and collage photos in chats. You can also pin messages in a conversation to come back and read it later. Additionally, the new "Shared With You" feature will pull up articles in Apple News, songs and playlists in Apple Music, pictures and Photos that your friends and family have shred in Messages, so you can easily find all the newest shares in whatever app you're using.
Other fun updates include a newly designed Weather App, with enhanced data and graphic layouts that change based on the weather conditions.
While iPhone users with an iPhone X or older won't have Portrait Mode or Spatial Audio in FaceTime, they can still take advantage of SharePlay, which allows you to watch a movie or show or listen to a song with your friends right from a FaceTime call.
The iOS 15 update is filled with fun updates that most compatible iPhone users can enjoy, but if you want the full iOS 15 experience, you might consider upgrading to an iPhone XR or later. If Apple follows past releases, the fall 2021 iOS 15 update could be accompanied by a new iPhone. Apple has yet to confirm the reported iPhone 13, but if a new iPhone is released, it will likely come with the new iOS 15. Until all the new goodness drops, you can start a queue of all the movies you'll watch with your besties seamlessly over FaceTime.