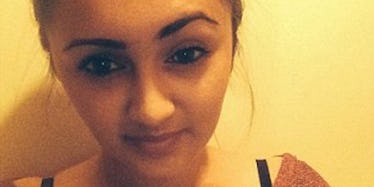 Wife Stabs Husband's Mistress After She Says She'll Spit On Grave Of Her Baby
Facebook
A mother will stop at nothing to protect her child -- even if it means stabbing her husband's mistress.
Natasha Khan, an 18-year-old woman from Manchester, England, stabbed her husband's mistress six times after she wished death on their sick child.
Apparently, Khan attacked the mistress, 18-year-old Leah Cryne, after spotting Cryne and her husband walking together in a park.
According to court documents, Cryne had been involved in an ongoing sexual relationship with Khan's husband, Hamza Farid.
After the attack, Cryne was taken to the Manchester Royal Infirmary hospital where she was treated for multiple stab wounds to her arm and shoulder.
Khan was arrested by police at St. Mary's Hospital, where her sick 1-month-old baby was undergoing treatment after being born prematurely.
Khan's baby later died.
Khan gave birth to the baby, Aydin, in March 2015. However, he was born 24 weeks early and had to stay in the hospital.
Khan later discovered her husband had been having an affair with Cryne while she stayed at a hospital with their ill infant.
Court documents revealed the knife attack came after Khan confronted Cryne in a series of hostile phone calls.
During one of their phone conversations, Cryne said, "I hope your son dies and when he does I'm going to dig him up and spit on him."
Khan responded to her husband's mistress, saying, "Watch it - when I see you, God help you."
On April 10, 2015, Cryne's brother Liam called the police to report his sister had been stabbed outside an apartment block.
According to the prosecutor, Vanessa Thompson,
They found Leah lying on the floor with her arms covered in blood and blood running down her face. Leah said she knew her attacker as Natasha and she was with Hamza Farid. She told the officer there was animosity between her and Natasha because Leah had slept with Hamza. She recalled the defendant coming out of the park with Mr Farid, saw Leah and again made reference that she had slept with him. She took out an implement and began stabbing at her repeatedly. Leah screamed at the defendant to stop and eventually she did - but then told her 'not to say boo to her again.'
Cryne spent two days in the hospital after suffering lacerations to her right shoulder, left arm and head in the attack.
Khan was taken into custody on April 11, despite telling police she had been in the neonatal department at the time of the knife attack.
During the hearing at Minshull Street Crown Court in Manchester, Thompson stated,
She admitted there had been issues between the two young women because Leah had been sleeping with her partner. Her clothing was tested for forensic evidence, and there were drops of the complainant's blood found on her shoes. Two weeks later, Khan confessed to carrying out the attack to a support worker, saying: 'I stabbed her up six times. I stabbed her up.'
Khan's lawyer, Richard Lees, defended his client, saying,
She has one of the worst backgrounds for such a young lady that I have seen in such a long time. Her baby was born at 24 weeks and died a short time later. Natasha was struggling significantly during these events and psychologically was affected as a grieving young mother. In this case there was provocation in the most disgusting way with the complainant saying: 'I hope your baby dies and when he does I will dig him up and spit on him.' This was significant provocation in my view coupled with the fact the complainant slept with my client's partner. There is a lack of premeditation despite her carrying the knife. Her mindset was affected at the time.
During sentencing, the judge, Recorder Amanda Yip QC, told Khan,
You found out that Hamza had seen Leah when you were in hospital or you thought that he had. As far as Leah was concerned, she hadn't done anything wrong because she was single at the time she slept with Hamza. But it is obvious that there were unpleasant calls between you both, from Leah to you and equally you to her. Your sister added that you took all of your frustrations out on Leah and you wouldn't let it rest.
Yip spoke about the negative effects the attack had on Cryne,
Miss Cryne did not just experience physical trauma, she suffered with post-traumatic stress disorder. It is not easy for me to say that the psychological damage was just down to this offense, but it no doubt contributed.
The judge also took Khan's mental state into account, saying,
In the report it explains that you were under extreme stress and your judgement was affected at the time of the offense. Your self-esteem has been severely affected and levels of aggressive behavior developed with you. There was significant pressure and your mindset was off because of the severe stress you were suffering. I do accept that you were young and immature and dealing with profound stress at the time. Your sister provides a role model for you and I hope you recognize that in the future. I do accept that your decisions were impacted by your grief.
After confessing to charges of wounding with intent and failing to answer bail, Khan was sentenced to three years and four months in a young offender institution and was ordered to stay away from Cryne indefinitely.
Citations: Wife, 18, stabbed her husband's teenage mistress six times in a frenzied attack after he cheated on her while their premature baby was dying in hospital (Daily Mail), Young wife stabbed teen mistress her husband met while she sat with their premature baby in hospital (Manchester Evening News)