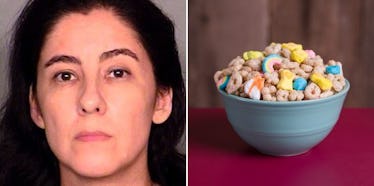 Wife Poisons Husband's Lucky Charms To Avoid Sex With Him, Flees To Mexico
LVMPD/Shutterstock
Have you ever met someone you just didn't want to have sex with? If so, have you ever accidentally married that person?
There are people out there who have actually made that mistake. Not all of these people were able to handle their sexual disinterest the right way, though.
Just ask Andrea Heming, a 49-year-old Nevada woman who pleaded guilty to poisoning her husband's food because she didn't want to have sex with him.
Somehow, Lucky the Leprechaun is involved.
According to DailyMail.com, Heming pleaded guilty to poisoning her husband two years ago. She's been on the run since 2015 and is believed to be in Mexico.
Heming contaminated her husband's Lucky Charms cereal, energy drinks and whipped cream with boric acid, a chemical typically used to kill insects.
Prior to officially pleading guilty, the woman told law enforcement officers,
I wouldn't use that much to kill him, but just enough to make him not have an erection.
Just before the woman was set to be sentenced for her heinous crimes, Heming fled Nevada and has been on the run for two years now.
Heming's ex-husband, who identified himself as "Ralph," spoke to 3 News about the baffling discovery, saying,
I was very surprised. thought we had a better system of keeping track and holding people responsible.
Me too, Ralph. Me too.
The man then spoke to reporters about how he felt before he knew his ex-wife was poisoning him.
I had been getting sick awhile back. Like six to eight months. I got stomach cramps.
It turns out this isn't the first time Andrea Heming used chemicals and additives to get back at someone. Ralph revealed,
She did reveal to me a story where she was a flight attendant at one time, and she had a customer — you know a passenger who was she said was unruly. She actually put sedatives in her drink.
Damn, this woman must be difficult to please!
As of right now, Andrea Heming is still on the run. Authorities believe the 49-year-old Nevada woman is somewhere in Mexico steering clear of the public eye.
If she's ever caught, she can expect to face up to 15 long years in prison. Next time, just file for a divorce, lady!
Citations: Nevada wife who poisoned her husband's Lucky Charms to avoid having sex with him 'is hiding out in Mexico' (DailyMail.com)