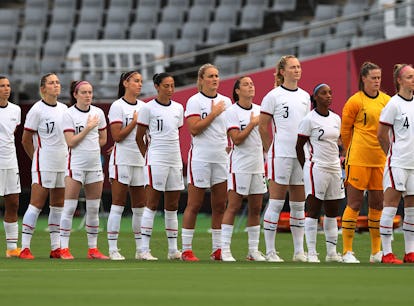 The USWNT Skipped The Olympics Opening Ceremony For A Simple Reason
It's not all fun and games, ya know!
Ian MacNicol/Getty Images Sport/Getty Images
The 2021 Tokyo Olympics have officially begun, bringing together all-star athletes together from all over the world. And although Team USA arrived to join the opening ceremony festivities on July 23, they were missing some key players. It turns out that the U.S. women's soccer team wasn't at the Olympics opening ceremony for a very simple reason: They had practice!
During the event, teammate and previous Olympic gold medalist Megan Rapinoe hopped on an interview with NBC News, explaining she and the team weren't able to march in the ceremony due to their practice schedule ahead of Saturday's match against New Zealand.
On Wednesday, July 21, the U.S. women's national team suffered a rare loss against Sweden, losing 3-0. The defeat ended the U.S. team's 44-game unbeaten run: Since January 2019, they've won 40 games and had four draws. "We don't lose very often, and we don't lose like that very often," Rapinoe said in an interview with NBC's Mike Tirico. "We have matchday again tomorrow. That's what we're looking forward to. We just need to take care of business. We weren't happy with our performance and we definitely need to be better tomorrow, and we're all excited for that."
Although Rapinoe couldn't be at the ceremony, a very important person in her life was able to represent Team USA as flag bearer: her fiancée, five-time Olympian basketball player Sue Bird. Although Rapinoe told NBC Bird tried not to make a big deal out of it, she was thrilled about being chosen for such an iconic opening ceremony role. "She's a five-time Olympian, going for her fifth gold medal," the soccer star added. "I get to see how much that means to her and how much she puts into it. So I know this means the world to her, and I just couldn't be prouder or happier."
The 2021 Olympic Games have faced plenty of scrutiny, largely due to the state of the COVID-19 pandemic in Japan: Vaccination rates are low, and a state of emergency was recently declared in Tokyo after cases reached their highest numbers since January. But here's hoping Team USA will be able to turn things around in their second match, and Rapinoe and Bird will have an Olympics to remember.