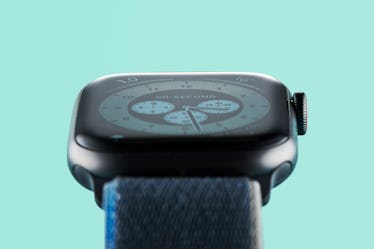 Here's Why You Can't Unlock Your Apple Watch From Your iPhone
Thankfully, there's an easy fix.
T3 Magazine/Future/Getty Images
Apple released iOS 14.7 on Monday, July 19, and following the update, many iOS users noticed issues opening their Apple Watches via their iPhones. In a support post shared on Tuesday, July 20, Apple explained there was bug causing users to experience issues unlocking an Apple Watch by using the Unlock with iPhone feature. Thankfully, Apple released a simple fix on Monday, July 26. Here's what to do if you're having issues.
On July 20, Apple revealed that an unexpected bug was causing trouble for some people who recently updated to iOS 14.7. Users with Touch ID-enabled iPhones were no longer be able to automatically unlock an Apple Watch just by unlocking their phone. This issue impacted all owners of iPhones with Touch ID, aka all devices from an iPhone 5s to the iPhone 8 Plus as well as both the 2016 and 2020 iPhone SE. While these users used to be able to automatically unlock their paired Apple Watches by scanning their fingerprints on their iPhones, a bug in iOS 14.7 prevented that from happening.
If you experienced the Apple Watch issue, you can easily fix it by downloading and installing iOS 14.7.1, which was released by Apple on July 26. According to the release notes, "iOS 14.7.1 fixes an issue where iPhone models with Touch ID cannot unlock a paired Apple Watch using the Unlock with iPhone feature."
Prior to the fix, Apple said in a July 20 support post that users affected by the bug had to manually type in the passcode on their Apple Watch every time to unlock it. If you forgot your passcode, you had to reset your Apple Watch.
With the iOS 14.7.1 fix, though, you can update your operating system to avoid the issue altogether, so if your Apple Watch was affected, it's best to download the iOS 14.7.1 update ASAP so you don't have to go through the hassle of resetting your Watch altogether.
This article was originally published on