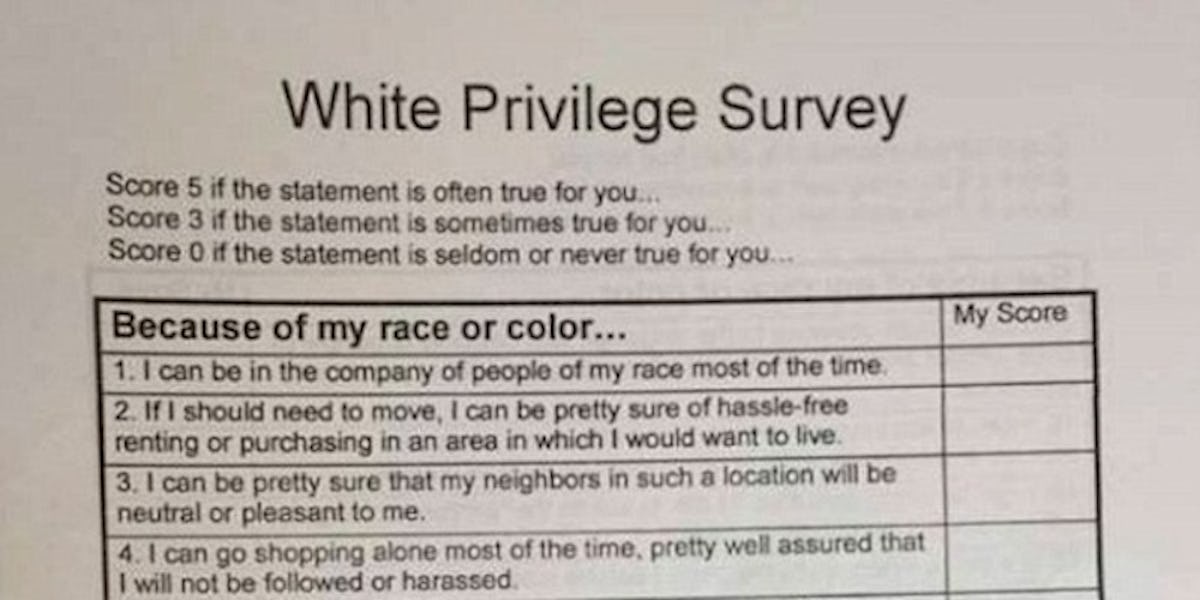 Teacher Gave His Students A 'White Privilege Survey' And Parents Are Pissed
Jason Schmidt
Wondering what high schoolers are being taught in class these days?
What if I told you their lessons consist of things like "white privilege" surveys? While this might not be "a thing" in every American high school in the country, it certainly is at Aloha High School in Oregon.
One parent is livid after his son was given a survey literally called the "white privilege survey." The assignment instructs students to rank a series of different statements from 0 (least true) to 5 (most true).
For instance, one of the statements reads,
I can be pretty sure that my neighbors in such a location will be neutral or pleasant to me.
The students taking the survey had to then rate that statement based on how true it was or how well it applied to their life.
Another statement read, "I can go shopping alone most of the time, pretty well assured that I will not be followed or harassed."
The survey is reportedly based on an essay written by Peggy McIntosh titled "White Privilege: Unpacking the Invisible Knapsack."
The essay, which is known to be used in select college classes, was written back in 1989.
One student's dad, Jason Schmidt, is coming forward regarding his disapproval of the controversial survey that's based on McIntosh's essay. Schmidt spoke to KATU, saying,
The way this survey is read, it almost wants to like, shame you for being white.
He also stated that he'd much rather his son be "learning actual education and not be a part of some social experiment or teacher's political agenda."
Behold, the "white privilege survey."
If you expected every single parent at Aloha High School to side with Jason Schmidt, you're wrong. With this particular high school being 47 percent white and 37 percent Hispanic, there are mixed feelings.
Other parents whose children attended the school are showing their support for the survey, as well as their support for discussing race relations during school hours.
One parent named Sarah Rios-Lopez spoke to reporters, explaining,
I want [my daughter] to have opinions. Whether it's for or against, you have to create those, but you can't without good information so I applaud teachers getting out that information.
Furthermore, a spokeswoman for the school district named Maureen Wheeler spoke to reporters regarding the survey, saying that the class in which the survey was assigned was designed to "gain empathy, understanding and to build bridges."
Yup, it's obvious that there are mixed feelings regarding this survey.
While some feel like the survey shames white people, others feel that it's a great way to educate young people of any background about the different advantages or disadvantages a person might have solely because of their race.
What do you think? Did this teacher take things too far or is Aloha High School doing America a favor?
Citations: Public high school under fire for 'white privilege' survey given out as homework (DailyMail.com)