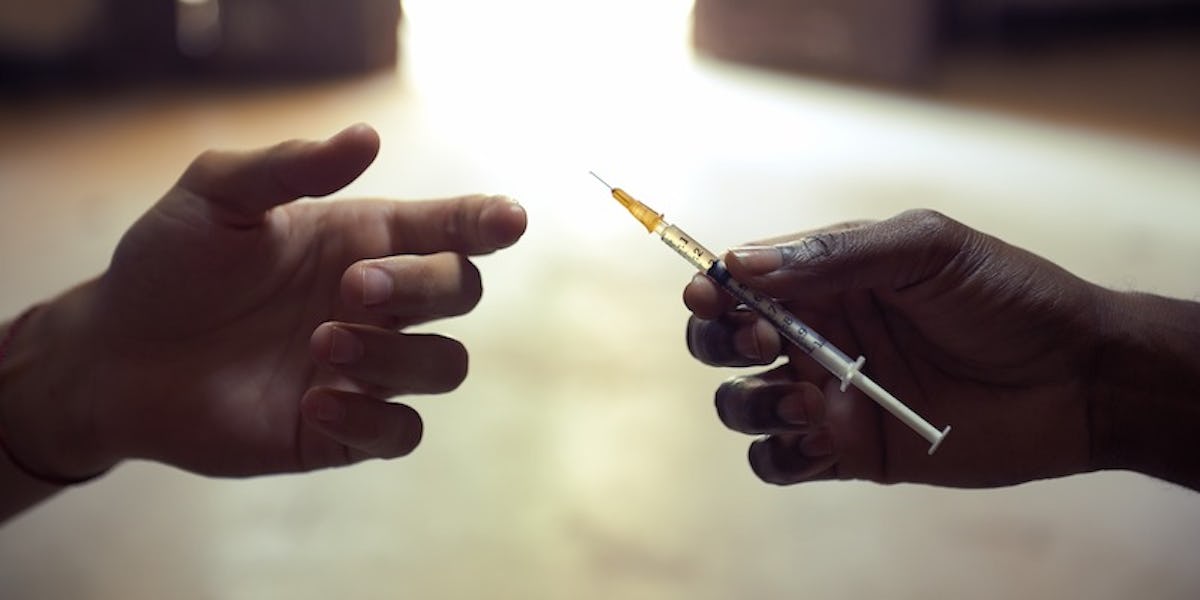 A City In West Virginia Sufferered 27 Heroin Overdoses In Just Four Hours
Shutterstock
Something strange is going on in one particular West Virginia city.
According to CNN, 27 heroin overdoses were reported in Huntington, West Virginia in just four hours on Monday.
The overdoses, which included one death, are raising concerns that the drug may have been laced. Otherwise, there's really no explanation as to why this particular drug led to a "mass casualty event."
In an interview with CNN, Cabell County EMS Director Gordon Merry explained,
We had tied up seven ambulances within minutes due to overdose calls and still needed more, which we had to get from other parts of the county. It was basically like a mass casualty event.
Scary, isn't it? So, what was inside the drugs found in each victim's body?
Huntington Chief of Police Joe Ciccarelli revealed,
The state medical examiner will conduct a toxicology analysis to determine what was in the drug, but that will not come back for about 10 weeks. We did not seize any heroin from the other overdose victims, so we can't analyze theirs.
The city of Huntington, which is home to a population of about 50,000 people, typically experiences anywhere from 18 to 20 overdoses on a weekly basis. This is why 27 overdoses in one day is understandably alarming.
Scott Lemley, a criminal investigator with the Huntington Police, revealed,
It's way too early to tell what the heroin in these latest cases was laced, with but I suspect it was fentanyl and maybe something else. A majority of the overdoses cases are laced with fentanyl, Xanax or something. It's very rare to find pure heroin these days.
The report states,
Eight people were revived using naloxone, an opioid-reversing drug. Others were revived by manual resuscitation, with a bag that simulates breathing. One of the victims had to be given naloxone three times because the heroin and whatever it was laced with was so strong, according to Merry.
While awaiting the toxicology results, the Cabell-Huntington Health Department has expressed that the city has been working on finding solutions to combat the ongoing drug problem in the area.
The director of the health department in Huntington, Michael Kilkenny, believes that the rise in heroin use is due to the decline in opioid use.
He said,
When I graduated from medical school in 1982, we used opioids for patients with acute pain and those close to death and dying only, not for chronic pain, because they were thought to be addictive. Then, in the 1990s, our thinking changed and we thought we were under-treating pain, so we started using more opioids.
Fast-forward to present day and opioid use has declined in certain places, which has caused an increase in heroin use to combat withdrawal from opioids.
This is terrible news, but for now, we'll just have to wait and see what investigators come up with.
Citations: West Virginia city has 27 heroin overdoses in 4 hours (CNN)