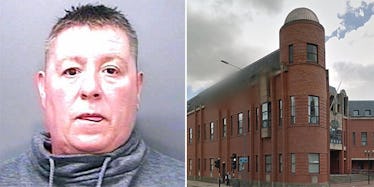 Man Rapes Teen Girl 22 Times And Somehow Gets Restraining Order Against Her
Humberside Police/Google
In East Yorkshire, Wayne Pickering, 47, reportedly raped a teenage girl at least 22 times, even getting her pregnant at one point.
In an even more sickening spin of events, after SHE punched HIM in the face, he somehow won a restraining order against her.
Fortunately, he has since been jailed for 15 years after a jury found him guilty of three counts of rape and indecent assaults between November 1998 and 2003.
He was, however, acquitted of two additional counts of rape and three indecent assaults at Hull Crown Court.
Over the course of a five-year period, Pickering sexually assaulted the teenager, leaving her feeling "dirty and emotionally disturbed nearly every day."
In what a judge described as a "grotesque subversion of reality," Pickering was later granted a restraining order after the girl attacked him in what was referred to as a "chance encounter."
The female survivor chose not to report the abuse for so long, as she felt no one would believe her. This is incredibly common and a long-lasting epidemic sexual assault survivors often face.
She did, however, choose to terminate the pregnancy.
The survivor said in a statement, "I often feel sick to the stomach that I allowed that to happen but did not tell anyone."
It was also noted that "she had turned to drink, self-harmed and needed medication to sleep."
Pickering, of course, denied the accusations during the trial. Fortunately, though, the judge was thoroughly convinced he had a sexual interest in teenage girls, having made inappropriate comments to the victim and to other young girls.
Judge Mark Bury said,
Your offending is extremely serious. It is no exaggeration in my view to say that you blighted her life. You did not have the courage to admit your offenses. You forced [her] to relive her ordeal in the witness box. But she has, by and large, been believed by the jury, and I hope she now feels vindicated and can begin to move on with her life.
If you need help, you can reach the National Sexual Violence Resource Center orRAINN's National Sexual Assault Hotline.
Citations: Rapist attacked a teenage girl at least 22 times and made her pregnant - then won a restraining order against HER after she punched him in the face when she bumped into him years later Read more: http://www.dailymail.co.uk/news/article-4127324/Rapist-Wayne-Pickering-attacked-girl-got-pregnant.html#ixzz4W2YCUBck Follow us: @MailOnline on Twitter | DailyMail on Facebook (Daily Mail)