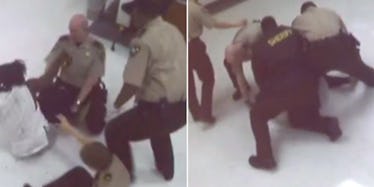 Police Beat, Restrained And Tased A 22-Year-Old Student Who Later Died (Video)
WARNING: This article features disturbing video footage. 
Another day, another American needlessly and prematurely dead due to police brutality.
Extremely disturbing video footage shows police in Chatham Count, Georgia severely beating 22-year-old Matthew Ajibade before handcuffing him to a restraint chair, placing a spit mask on him and tasing him in the groin area.
Not long after, Ajibade was found dead in the restraint chair, still wearing the spit mask.
His death was ultimately ruled a homicide, NBC News reports. Two of the sheriff's deputies and a healthcare worker who were involved are being tried for involuntary manslaughter, and the nine deputies who were on duty at the time have all been fired.
What's more, it seems prosecutors and police attempted to shield the video footage from public view for 10 months and are seemingly being accused of hiding murder evidence. It's conceivable police would've gotten away with what happened to Ajibade if this footage didn't exist.
Here's the video of police beating Ajibade before restraining him as he's clearly struggling with delusions.
And here's the unsettling footage of police tasing Ajibade while he's handcuffed to a restraint chair.
As the NAACP put it, this is nothing short of torture.
Torture--Graphic Video Shows #MatthewAjibade Being Tased While in Restraint Chair http://t.co/jdLDHASoHD via @nbcnews — NAACP (@NAACP) October 13, 2015
The incident occurred on New Year's Day while Ajibade was having a mental health crisis.
His family called it a bipolar episode. They contacted police and asked them to bring Ajibade to a hospital, but they took him to jail instead, Daily Kos reports.
1. #MatthewAjibade should've been taken to a hospital. He was clearly having a mental health crisis. He was disturbed by colors of chairs. — Shaun King (@ShaunKing) October 8, 2015
These tragic events are emblematic of our society's failure to properly aid the mentally ill. We've essentially made it a crime to suffer from mental illness. In the case of Ajibade, it seems this crime was punishable by death.
There is a disproportionate number of mentally ill people incarcerated in the US, another reflection of how broken America's criminal justice system is.
The Washington Post reports US prisons and jails housed an astonishing 356,268 inmates with severe mental illness in 2012 alone. The same year, only around 35,000 people were treated in state psychiatric hospitals.
Simultaneously, it's estimated around half of the individuals killed by US police each year suffer from mental illness.
Simply put, what happened to Ajibade was not an isolated incident; it's a part of a much larger trend. Instead of treating people for mental illness, we're incarcerating and sometimes even killing them.
As John Oliver noted in a recent segment, part of the problem is it's not mandatory for police to receive training on how to approach situations involving the mentally ill. This is egregious and counterintuitive, and it's obviously having devastating consequences.
.@iamjohnoliver Breaks Down America's Problem With Gun Violence And Mental Illness http://t.co/QOkeFAMZUZ pic.twitter.com/ADT1boH7NA — BuzzFeed News (@BuzzFeedNews) October 5, 2015
It's estimated around 4.1 percent of the adult US population (10 million people) suffer from severe mental illness.
Thus, along with too many instances of lethal force employed by US police, this issue needs imminent attention.
Matthew Ajibade was an artist, photographer and student at Savannah College of Art and Design with a bright future. But due to the brutal and torturous actions of police, his life's been cut short and he's been robbed from the lives his family and friends.
What happened to Ajibade is inexcusable and reflective of America's abhorrent approach to mental health and criminal justice.
Citations: Graphic Video Shows Deputies Tasing Man in Restraint Chair (NBC News), Video shows police tasing a bloody restrained Matthew Ajibade in the testicles before his death (Daily Kos), Ten months after his in custody death video shows police kicking and punching Matthew Ajibade (Daily Kos), John Oliver dismantles the US mental health system (The Washington Post), A shocking number of mentally ill Americans end up in prison instead of treatment (The Washington Post)