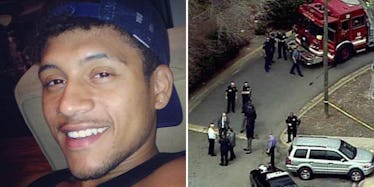 The Ugly Truth Behind The Police, Lethal Force And Mental Illness
On Monday, the New York Times reported that an unarmed naked black man was shot and killed by police at an apartment complex in Chamblee, GA. His name was Anthony Hill.
Hill had allegedly been acting strange and was knocking on people's doors while running around unclothed. Unsurprisingly, the police were called.
The officer who responded to the call encountered Hill in the parking lot. Hill apparently ran toward the officer and was ordered to stop but didn't comply.
Consequently, the officer fired two shots, both of which hit their target, and Hill died at the scene.
According to reports, Hill may have had mental illness, specifically bipolar disorder. Other reports also suggest he was an Air Force veteran.
The officer who shot Hill was white. This was the third time in just several days that police shot and killed a black man; the other incidents happened in Madison, WI, and Aurora, CO. Like Hill, the other two men were allegedly unarmed.
On March 1, police in Los Angeles shot and killed Charly "Africa" Leundeu Keunang, a homeless African-American man with mental illness.
And this all comes in the midst of a national debate surrounding racism and policing. The cases of Michael Brown, Eric Garner and Tamir Rice have been at the center of this heated discussion.
Simply put, the relationship between police and racism is a topic that's fresh in the minds of Americans, and for good reason.
The incident involving Hill is still being investigated, and we don't know all of the facts.
Yet people have already begun to argue this killing was racially motivated. Some are curious as to why the officer, who was armed with a Taser, used lethal force against a man who was obviously mentally ill.
Given we don't know everything that occurred, we should avoid coming to premature conclusions, but what happened to Hill highlights an unfortunate trend in terms of the use of lethal force by police.
And there's also a disturbing link between police killings and mental illness.
Some studies suggest that around half of the people killed by police every year are mentally ill.
This is not to say police are deliberately targeting mentally ill people, but that greater effort needs to be taken to train for these difficult and convoluted situations.
Just a few days ago, Hill took to Twitter to spread awareness about his struggles with mental illness:
I am thankful to be something other than normal. I don't fight my circumstance, I embrace it. I love myself. Always #IAmBipolar — Lanta (@AntHeezie) March 5, 2015
It boils down to this: A young man was taken from this world far too early, and if police were better trained to handle situations involving mentally ill people, perhaps he would still be alive.
This is not only an issue for police, however, but for society as a whole.
The increasing instances of police encounters involving mentally ill individuals is directly tied to the help available to people suffering from such disabilities.
In other words, we aren't doing enough to combat mental illness as a country. The National Institute of Mental Health estimates that around 4.1 percent of the adult population in the United States suffers from a serious mental illness. That's around 10 million people.
Mental health is also linked to homelessness. There over 124,000 homeless people in the US suffering from severe mental disorders.
Likewise, thousands of American veterans contend with mental illness, and there are far too many veterans who also happen to be homeless.
We can no longer ignore the impact mental illness has on our society.
If we don't work to spread awareness and provide people with the help and services they need, we will likely see more tragic incidents involving police and the mentally ill.
We will also see more people living on the streets, including those who have served our country.
Citations: Naked Black Man Fatally Shot by White Police Officer in Georgia (New York Times), When police deal with people in crisis (CNN), Deadly force police and the mentally ill (Portland Press Herald), Anthony Hill Unarmed Naked Black Man Fatally Shot By Police Near Atlanta (Huffington Post), Dozens protest LAPD shooting of homeless man on skid row (LA Times), Police Confront Rising Number of Mentally Ill Suspects (New York Times), Mental disorders keep thousands on the streets homeless (USA Today), Serious Mental Illness Among US Adults (NIMH), Unarmed Naked Man Shot Dead By Police (Sky News), Mental Illness and Veterans (NAMI)