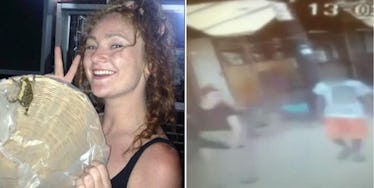 Eerie Video Shows Man Stalking Woman Moments Before She Was Killed At Festival
Facebook/MailOnline
Creepy surveillance footage shows a young woman being stalked by her alleged killer at a popular tourist spot.
The clip reportedly shows the last moments of Danielle McLaughlin, who was reportedly sexually assaulted before she was murdered in Goa, India.
Vikat Bhagat, who was described by police as a local thief, has allegedly confessed to the killing and been arrested on suspicion of murder.
Grainy footage shows a man, reportedly 23-year-old Bhagat, walking close behind the backpacker.
At one point, McLaughlin, who is carrying a bag, looks back over her shoulder.
It is unclear where it was filmed.
McLaughling, 28, who lived in Liverpool, England, was found in a pool of blood by a farmer on March 14.
She had been celebrating the Holi festival, which is popular with tourists, and was last seen at a party on Palolem Beach the previous day.
In addition to being sexually assaulted, McLaughlin's face had reportedly been disfigured by an attack with a beer bottle.
In questioning, Bhagat told police he was friends with Danielle and had first met her on her previous visit to India a year ago.
Superintendent of Police Uttam Raut Dessai, from Sanguem Police Station, said,
The girl arrived at one restaurants with Vikat on a scooter. He has confessed to the crime but is now trying to involve others. We believe he took her clothes so that the body was not recognized by anyone. And in order to hide her identity, he tried to destroy her face with a beer bottle because people had seen him with Danielle.
Her body has been sent to the Goa Medical College for a post mortem, though this will not happen until authorities in India get permission from the British Embassy.
McLaughling's mom, Andrea Brannigan, said she would be "sadly missed."
Police inspector Filomeno Costa said Bhagat could still be charged with rape as well as murder, pending the result of the post mortem.
Citations: CCTV footage shows last moments of backpacker Danielle McLaughlin before she was raped and murdered in Goa (Evening Standard), British backpacker murdered in Goa first met her alleged attacker a YEAR ago, it emerges, as CCTV shows her final moments before she was 'raped and killed by local thug' (MailOnline)