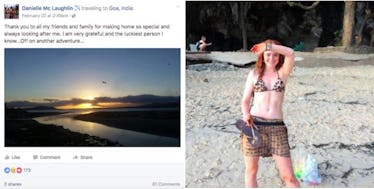 Woman Posts Pic With Eerie Caption Before She's Killed During Beach Festival
Facebook
An Irish woman's naked body was found in a pool of blood near a beach in India just days after she posted on Facebook about her excitement for her upcoming trip.
Danielle McLaughlin, 28, was celebrating the Holi festival in Goa, an Indian tourist hotspot.
McLaughlin, who lived and studied in Liverpool, was last seen at a party on Palolem Beach in the Canacona area on March 13. The next morning, a farmer discovered her badly beaten body about four miles away near Deobag Beach.
Police have arrested a suspect, Vikat Bhagat, who allegedly confessed to rape and murder.
According to The Sun, Deputy Superintendent of Police Sammy Tavares told reporters,
We have arrested Bhagat. He has confessed to raping the victim and later killing her in order to hide his identity.
A post mortem examination of the victim's body is currently underway to determine the exact charges brought against Bhagat.
On February 22, McLaughlin penned a now-tragic Facebook post to express both her excitement and gratitude for her upcoming adventure to India.
She wrote,
Thank you to all my friends and family for making home so special and always looking after me. I am very grateful and the luckiest person I know... Off on another adventure...
The 28-year-old had an immense passion for traveling. She even had a tattoo on her wrist which read, "Yesterday is history. Tomorrow is a mystery."
Father John Walsh, a parish priest, described the palpable effects of this tragedy on McLaughlin's hometown:
The absolute horror of this girl's murder has stunned the community We feel for her mother in particular and her siblings.
Before her untimely death, the victim was enrolled in Buncrana's Irish language school, Scoil Mhuire, BBC News reports.
Rosaleen Grant, the school's principal, said teachers and pupils alike were "just utterly shattered and devastated."
She said,
She was a very confident, sociable, outgoing girl of a very caring nature. A number of the staff would have known her really well, so it's just the sense of loss and the fact she's so far from home makes it so tragic. She loved taking part in school musicals, she did Irish dancing, she was involved in sports and athletics. She was just an all-rounder, really.
Police in India said they are currently studying CCTV footage of shacks McLaughlin visited on the night of the Holi party. Local reports suggested she was staying in the popular tourist area with a British friend.
The victim was reportedly last seen leaving the beach party alone at Ourem around 9:30 pm.
Her body "had bruises and her face was badly smashed" when it was discovered the next morning, according to Police Inspector Filomeno Costa.
Costa said,
Looking at the injuries we concluded that that it was a case of murder.
A spokesperson has confirmed the Irish Embassy in India is following up on the suspected murder.
The local British consulate has also been dealing with the Indian authorities, as McLaughlin traveled to the country on her British passport.
Citations: 'I'M THE LUCKIEST PERSON I KNOW' Haunting final message of Irish backpacker, 28, found in a pool of blood after being 'raped and murdered' in Goa (The Sun), Irish woman Danielle McLaughlin murdered in Goa (BBC News)