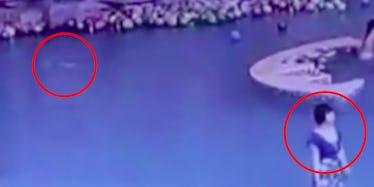 Disturbing Video Shows Boy Drowning In Resort Pool While Mom's Busy On Phone
Twitter
Shocking CCTV footage has emerged showing the moment a 4-year-old drowned while his mother was distracted on her phone, MailOnline reports.
The video shows a woman, whose surname is identified as Xiao, using her phone while at a public swimming pool in Xianyang, China, on Tuesday, January 3.
Meanwhile, her young son was struggling to stay above the water just several feet away.
The video emerged on China's social media website Weibo and has since been reported by People's Daily China.
The mother can be seen looking up from her phone and searching for her child. At this point, it was too late.
It is believed the boy strayed from his mom and into a deeper area of the pool while she was distracted. It is not known how long the child was left unattended.
He drowned in a water depth of around one meter, reports huanqiu.com.
Ms. Xiao searched for the child for some time before she became alarmed.
Numerous people were swimming near the boy, but none appeared to notice him drowning. There were around 80 people at the venue at the time.
The mother alerted staff who helped search for more than an hour.
His body was eventually found at the bottom of the pool near to where he was last seen on CCTV.
Ms, Xiao, who works in the nearby city of Xi'an with her husband, is quoted as saying,
If I had known this would happen, I would never bring him here.
Emergency services, including dozens of medical personnel, arrived on the scene and tried to revive the boy, but to no avail.
Ms. Xiao was contacting her husband when the incident took place, reports thepaper.cn.
Police are reportedly investigating the death. The pool is closed while the investigation takes place.
Staff at the pool venue have not commented on the incident.
Citations: Women's pool to play mobile phone obsession: 4-year-old son drowned 3 meters away (huanqiu.com), 4-year-old son of the pool drowned, close to the mother playing the phone failed to find (thepaper.cn), Helpless four-year-old Chinese boy drowns in swimming pool while his mother plays on her phone just feet away (MailOnline)