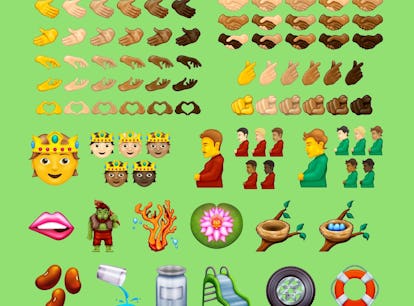 Here's A Preview Of New Emojis You May See On Your iPhone In 2022
Look at all those new handshake options.
Get ready to take chats with your BFFs to the next level with all-new emojis. Unicode's new iPhone and Android emoji drafts for 2021 were revealed on July 15, and there are some new diverse choices (read: so many more skin tone options) you can look forward to using. In addition to options that make emojis more inclusive, there are also some new emojis that are just plain fun, like heart hands or the melting face.
Emojis are certainly one of the easiest ways to convey a message without actually typing out words, and you're about to get so many more options. With Unicode's new emoji draft list, which was released ahead of World Emoji Day on July 17, you can look forward to sharing even more unique expressions with your friends. The lineup, which will be used on Apple and Android devices as well as Twitter, Facebook, and Instagram, will launch when the final versions of Unicode 14.0 and Emoji 14.0 release on Sept. 14, 2021. From there, different companies will adopt the emojis into their own operating systems. Based on the 2020 release, you can expect Google Pixel to be an early adopter in late 2021, with iPhone and Samsung phone users seeing the updates in the first half 2022.
The new emoji drafts aren't finalized, but they'll likely all be featured in the September release, so you can look forward to getting creative with a melting smiley face, a disco ball, and biting lips. There are also some "everyday item" emojis that will make their way to your phone, and they include an X-ray, an ID, a slide, and a cup with spilled water. You'll also be able to express yourself with a few new hand shapes, such as fingers making the shape of a heart and an index finger that points to the viewer.
The 2021 lineup also features a whole slew of emojis that are inclusive of race and gender. ICYDK, emojis have only gotten more diverse over the years, and with the upcoming list, you'll even be able to customize your handshake emoji with 15 combinations that use different skin tones. To continue expanding on inclusive options, there are new non-binary emojis, including a gender neutral person with a crown that expands upon the existing prince and princess emoji, and a pregnant man and pregnant person to join the pregnant woman.‌
You may have to wait a little while longer to actually use the new emojis, but you can check out all the new options in the meantime.
This article was originally published on