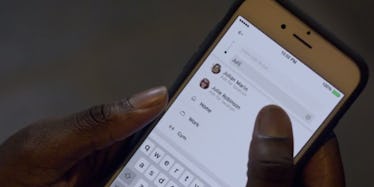 Uber's Latest Update Means You Never Have To Ask Friends For Their Addresses Again
Uber
Uber is now going to let you set your ride destination to a person, rather than a place.
It's called Uber to Person, and it goes active today. And, yeah, it's pretty weird.
All you have to do is go into Uber and sync up your contacts with the app.
To avoid this being used TOO easily for straight-up stalking, when someone sets their location to you, you get an alert. You have to agree before they can know where you are.
I made the mistake of sharing my location with an entire group chat recently and I suddenly feel like I have five moms, all of whom want to know why I'm in their neighborhood and didn't invite them.
The answer: I'm at trivia with a Tinder date and I don't want her to know my friends are very stupid and know nothing.
Now, because I'm a devious and untrustworthy friend, my first thought upon hearing about this update was it'd be excellent for sending my friends to random parts of the city for no other reason than to be cruel -- something we would call a "prank," but anyone else in history would call "being a mean person."
Unfortunately, once you send the location to the person, it can't be changed.
What this means is that if your friend says he's at a Laser Tag in Queens (just writing those words makes my hands yearn for the plastic grip of a laser rifle and the musky stench of fog and puberty), then even if he's actually at a Laser Tag in Brooklyn, you will still be brought to Laser Tag in Queens.
Basically, this would just save you the trouble of having to ask the person you're meeting to tell you the name and address of the place they're at -- which seems convenient, I guess?
Uber explained why it's, um, good, in a blog post:
Where are you? Where's that again? These are common questions we ask friends and family when meeting up. If it's catching up with friends when out of town, meeting your sister at the mall, or joining coworkers for drinks, now you can skip the back and forth. Just Uber directly to them.
I can think of 69-420 reasons why this could cause problems and be less convenient then just asking what the person's plans are and what bar they're at or whatever. But in certain circumstances, sure, it's probably great.
Uber product manager Yuhki Yamashita explained it to Mashable like this:
With Uber, you are going from point a to b. The new Uber to Person feature recognizes that people aren't just going to point b, they are trying to get to each other.
One thing that gives me pause, though, is that it's just another way Uber can access and share your location and information.
They've already come into a lot of trouble regarding privacy  in recent months.
But, yeah, I'll probably still give this a try.
Citations: Mashable