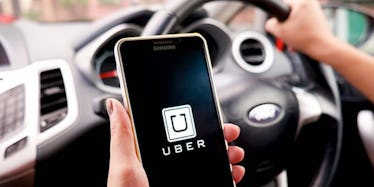 Uber's New Feature Will Make It So Much Easier To Get Home After A Few Drinks
REX/Shutterstock
Uber is coddling forgetful passengers and making it easier for them to disregard addresses.
Let's say you're meeting a friend at her place after happy hour with your co-workers. You've been to her apartment more times than you can count, but you just can't seem to remember where exactly it is... and the sangria you guzzled certainly isn't making the situation any easier.
"By the bodega on Smith Street" isn't going to cut it when you've called an Uber and the driver actually needs to drop you off somewhere.
But now, your prayers have been answered.
Behold -- the "Saved Places" feature.
Today, Uber rolled out this new feature on iOS and Android that allows you to bookmark addresses you visit frequently. Therefore, you'll be able to forget about them and still get to your destination safely.
On behalf of customers who don't know north from south, let's all say, "Thank you, Uber."
"This product feature is another way to ensure that the information our riders need is easily accessible," Sherry Wang, data scientist at Uber, told Elite Daily. "We hope that this will make the process of using Uber both seamless and fun."
So what are those frequently visited locations you can't quite locate? Uber discovered the top 10 "least expected yet delightful" places, so get ready to bookmark the following:
Karaoke
Mom
Therapy
Gym
Bae
Grandma
Jiu-jitsu
Tacos
Bagels
Church
In order to access these saved addresses (perhaps"tapas" instead of "Jiu-jitsu" or "Chipotle" instead of "gym," according to your preferences) tap "Where to?" and then "more saved places" and select from your list.
And there you have it!
Not only will this be helpful — and an excuse not to remember where you're going (tsk tsk) — but it will make life a lot easier for your drivers.
Added bonus? You can customize your list with emojis. Chances are, my list would look something like this:
"I think our riders will not only appreciate the ease and convenience of the Saved Places feature, but they'll also have fun with how they can personalize them," Wang said.
This definitely will make life easier.
OK, Fatty Daddy Taco, I'm on my way.
Citations: Personalize your app with Saved Places (Uber)