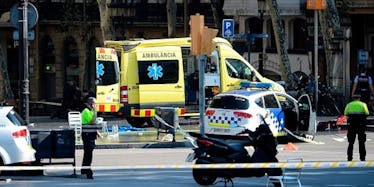 Twitter Is Begging People Not To Do This One Thing After Barcelona Attack
Getty Images/Josep Lago
A white van has plowed into a crowd of pedestrians on Las Ramblas, a popular tourist street in the heart of Barcelona. While media reports suggest the incident is ongoing, people on Twitter are urging others not to post photos of the Barcelona attack out of respect for those who have lost their lives, and everyone else who has been affected by this tragic incident.
Incoming reports confirm that this does, indeed, appear to have been a terrorist attack. According to BBC, witnesses on the scene have said the van deliberately drove into the heavily crowded area, weaving erratically and striking people in its path. As of now, Spanish news outlets are reporting that 13 people have died, and over 50 more are injured.
As devastatingly tragic as this attack is, it is crucial to maintain respect for those who have been directly affected by it.
Twitter is calling upon people to keep this in mind as the world continues to learn details of the attack.
Of course, while it's respectful to the victims and their loved ones to not share photos from the scene, it's also important to remember in these trying times to not spread rumors or inaccurate information. The best thing we can do is let the police do their work, and pray for those who have been personally affected by this tragedy.
This terrorist attack comes just days after the brutal violence that took place in Charlottesville, Virginia, which left one woman dead and 19 others injured after a car plowed into a crowd of protesters demonstrating against an alt-right rally.
According to The Telegraph, the Barcelona attack marks the eighth time a vehicle has been used to carry out a terrorist attack in Europe this year alone.
As these types of tragic events unfortunately become more and more common, it is absolutely vital to remember the pain and suffering of those who are actually affected by these incidents. Though we are all devastated to see these stories unfold, we cannot imagine the devastation the victims and their families must be feeling in these extremely difficult times. With that in mind, be responsible on social media, and think about what you are about to post, and how it will affect others, before you post it.