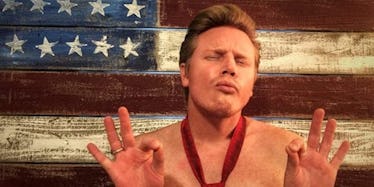 Porn Site Finally Finds Trump Look-Alike With 'Weird Hair' And 'Small Hands'
xHamster
Why any casting director in the porn industry would want to find a Donald Trump look-alike with "weird hair" and "small hands" is beyond me.
At this point, though, I'm not even the least bit surprised by popular porn site xHamster's intense hunt for a Trump doppelgänger (seriously). All it does is highlight Alec Baldwin's refusal to bang on cam.
In February, we reported the adult site was looking to cast someone who looks similar to our newly elected president.
The casted actor would be tasked with starring in several Trump-themed porn flicks. They would be asked to star in these types of films as long as President Trump is in office.
But wait. You MUST have "weird hair" and "small hands" to land the part.
Here are the details regarding xHamster's search for a Donald Trump look-alike. Try not to throw up, though.
Fortunately for this lucky guy, he fits the script.
According to Complex, a guy who calls himself Johnny Brutal has been officially chosen by xHamster to take on the role of President Trump in the company's upcoming parodies.
The report also states Brutal has "normal-sized hands," but was chosen anyway. I guess it's impossible to find anyone with smaller fins than "The Donald?!" Evidently.
In a new blog post, Johnny Brutal announces he is now "the President of porn for all xHamster fans."
My fellow Americans, as your newly elected cumander in chief I want you to rest assured that I've got yuge plans for our great nation. I want to be the President of porn for all xHamster fans and I won't stop busting my ass (or busting on asses) until I've helped deliver the most wonderful, the most fantastic, the most beautiful scenes ever filmed.
He didn't stop there, either. I mean, did you really think he wasn't going to drop a "big league?" Brutal continued,
I mean big league cinema, okay?! Friends, trust me, place your sexual futures in my normal sized hands, and place some lube in yours; together... let's make America 'cum again.
Don't get it twisted. Johnny Brutal's life wasn't always this focused on porn, though. According to an interview with Vocativ, Brutal was a dialysis technician in Minnesota before his new presidential gig.
He told reporters,
Now that it's an opportunity, I guess I just look at it as an acting job.
An "acting job," right!
More details regarding the upcoming porn parody hint at xHamster already casting other members from inside and outside of Trump's cabinet. Who are those cabinet members?
Apparently, the porn site is looking to cast "Julia Ann the role of Kellyanne Conway, Nina Hartley as Betsy DeVos, [and] Tommy Pistol as Mexican President Enrique Peña Nieto."
Of course, there is always the worry Johnny Brutal won't be able to perform like a true, well-seasoned porn star. So, what happens if Brutal is a letdown?
If worse comes to worse, we'll just have him stand around watching women pee on each other and tweeting. It's a win-win.
Yeaaaah... It sounds like they've got their bases covered with this one!
Citations: Porn Site xHamster Has Found Its Donald Trump (Complex)