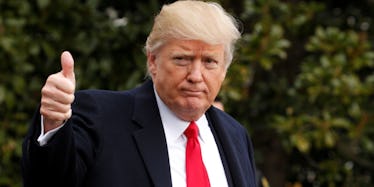 Porn Site Is Looking For Trump Look-Alike With Small Hands And 'Weird Hair'
REUTERS
A popular porn website is hunting for the perfect President Donald Trump look-alike.
Now, why would a porn site want to cast someone who looks similar to one of the world's most despised 70-year-olds? I'm not too sure. You'd have to ask xHamster that question.
According to Complex, the porn site xHamster is in search of a Trump look-alike to star in an upcoming adult film. As of right now, there's an actual contest going on to help crown a winner.
But wait, there's a catch... You must have "weird hair" and "small hands" in order to make the cut. Hey, no one said this was going to be easy.
You must accurately portray the Donald for you to be considered suitable for the coveted role.
Here all of the details you need to see if you qualify for xHamster's porn parody of President Trump.
Here's a clip from the ongoing auditions.
OK, let's backtrack a bit, shall we? Why on EARTH does xHamster think anyone would want to see someone who resembles Trump having sex on camera?!
I'd rather watch two cockroaches do 69, and I fucking hate insects.
A spokesperson for the porn site named Alex Hawkins revealed,
There is nothing more that the American public needs that quality adult content parodies to help them understand the ever-shifting landscape of their Executive Branch of government.
That's debatable, Mr. Hawkins.
I don't know about you, but up until now, I was 100 percent certain we'd be able to make it four years without ever seeing something as sickening as a Trump porn parody. Thanks, but no thanks!
Another thing to keep in mind is President Trump previously promised to ban porn during his campaign last year. Whether or not he still plans on keeping that promise remains unknown.
However, if these Trump porn parodies are ever actually filmed and released, we may wish he did keep his word about banning pornography. Now, if you'll excuse me, I'm going to go throw up.
Citations: A Porn Site Wants a Trump Look-Alike With Small Hands for New Movie (Complex)