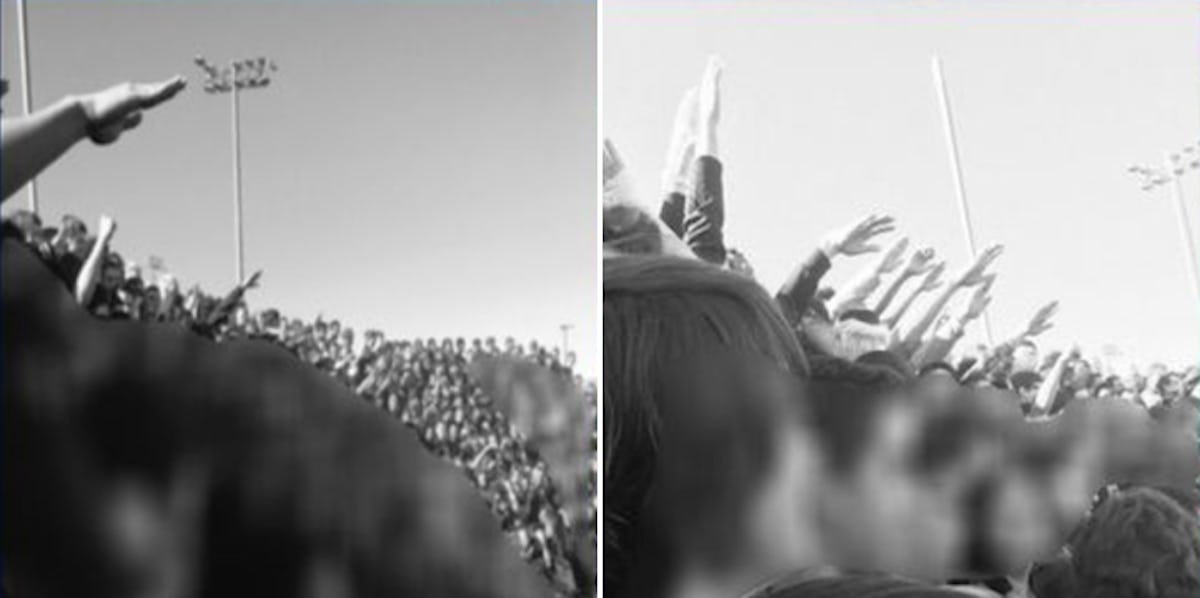 Texas High School Students Give Nazi Salute, Chant 'Heil Trump' On Picture Day
Twitter
Oh, America! What the hell are we ever going to do with you?!
Even before President Donald Trump officially took office, the dark, twisted underbelly of America was exposed for the world to see.
Countless hate groups and extremists have voiced both their hatred for others and their love for Trump.
So, if you thought the days of hearing and seeing people do the unthinkable were over, you were wrong.
If anything, this madness is likely just beginning.
During senior picture day at Cypress Ranch High School in Texas, quite a few students were photographed gesturing the Nazi salute as other students shouted, "Heil Trump" and "Heil Hitler," according to NBC's Houston affiliate.
A witness, who is also a student attending Cypress Ranch High School, estimated that there were approximately 70 kids taking part in the cringeworthy incident.
The student witness spoke to KPRC, admitting,
It was pretty terrifying.
Here are the photos of students at Cypress Ranch High School giving the Nazi salute while shouting "Heil Trump" and "Heil Hitler."
The photos, which were snapped on January 31, were taken after the students were asked to pose for a "funny" photo. Instead of doing something, well, funny, they decided to channel their inner Nazi.
Are you surprised? These days, it's getting kind of hard to be.
The student witness added,
Most people may think it was just kids just joking around, but in the current political climate and the fact these kids are seniors in high school, it's beyond unacceptable.
You think?!
I mean, even President Trump has denounced the support of Nazi-like factions over the course of his campaign.
Despite the fact Trump's ex-wife has stated the 70-year-old reality TV star would keep Hitler books by his bed, it would be nice to believe the fucking president of the United States and the leader of the free world would want nothing to do with Nazi's (even pretend ones), right?!
Right.
The principal over at Cypress Ranch High School issued a statement regarding the matter, saying,
This letter is to make you aware of a situation that occurred on our campus today while our senior class was taking a large group panoramic picture. Several of our students made the poor choice of displaying inappropriate gestures during this time. Unfortunately, many of these images have been shared on social media. This is extremely disappointing as this is not an accurate representation of our student body.
Well, since these kids are supposed to be the leaders of the future and everything, let's hope they aren't an "accurate representation" of your student body, Cy Ranch.
We are currently conducting an investigation and those implicated will be punished according to the Student Code of Conduct. We ask that you talk to your students regarding the posting and sharing of negative social media as this perpetuates a false image of Cy Ranch HS. We appreciate your partnership and support.
Let's hope.
Check out the news clip above.
Citations: Texas High School Students Caught Doing Nazi Salute, Saying 'Heil Trump' at Senior Picture Day (Complex)