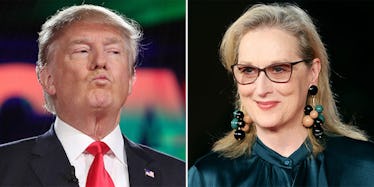 Trump Even Flip-Flops On Meryl Streep, Once Called Her 'Excellent' In 2015
REX/Shutterstock
Instead of focusing on his upcoming job, you know, as the most powerful position in the world, President-Elect Donald Trump is busy getting butt-hurt over something an actress said.
Last night during the Golden Globes, Meryl Streep used her speech time while accepting the Cecil B. DeMille Award to call out Trump.
Namely, she called into question Trump's mocking of a disabled reporter during a campaign speech.
As expected, Trump took to his Twitter to clap back at the person who many consider to be the greatest actress of all time.
It is a move that is drawing a lot of criticism, as the man who holds our nuke codes probably shouldn't have such thin skin.
Not only has Trump said he never mocked the reporter's disability (which, if you view the video, is pretty obvious he did), but now he's totally changed his point of view on Meryl Streep.
Back in 2015, in an interview with The Hollywood reporter, he praised the woman he'd later call "one of the most over-rated [sic] actresses in Hollywood" as one of his favorite actresses.
He said,
Meryl Streep is excellent. She's a fine person, too.
He also said Julia Roberts, another Hillary Clinton supporter, was one of his favorites.
Streep said Trump's mocking of the New York Times reporter Serge F. Kovaleski was the performance of the year, but not for a good reason. She said,
It kind of broke my heart, and I saw it, and I still can't get it out of my head because it wasn't in a movie. It was real life. And this instinct to humiliate when it's modeled by someone in the public platform by someone powerful, it filters down into everybody's life because it kind of gives permission for other people to do the same thing.
Trump defended himself to the New York Times,
I was never mocking anyone. I was calling into question a reporter who had gotten nervous because he had changed his story. People keep saying I intended to mock the reporter's disability, as if Meryl Streep and others could read my mind, and I did no such thing. And remember, Meryl Streep introduced Hillary Clinton at her convention, and a lot of these people supported Hillary.
Citations: Donald Trump Once Called Meryl Streep an 'Excellent' Actress and a 'Fine Person' (People)