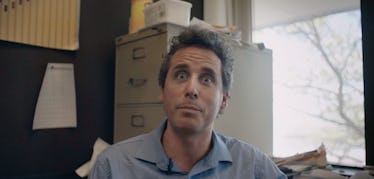 This Documentary Sheds Light On The Guy Who Gives Women His Sperm To Help Them Get Pregnant
Justin Snow
A couple of years ago, the world was introduced to the Sperminator, Ari Nagel, a 6-foot-2 math professor from Brooklyn, New York, who jerks off into cups inside Target bathrooms and gives women his sperm for free so they can get pregnant. The Post reported that by 2016, Nagel sired 22 children with 18 women from multiple backgrounds. Last year, that number increased to 26, and now, Nagel has a total of 28 kids with 25 women — and it doesn't look like he's stopping anytime soon. Now, a new documentary, aptly named The Sperminator, produced by advertising agency J. Walter Thompson New York, aims to tell the true story behind Nagel's somewhat controversial practice and introduce the women who are grateful for Nagel as not only their sperm donor, but as an actual father in their children's lives.
"Do a quick Google search of Ari and it's easy to see why anyone would want to talk to him; he's a man willing to give away his sperm to anyone who's interested," Justin Snow, in-house editor at JWT NY and co-director/producer (along with colleagues Tom Mishra and Christina Pitsinos) of The Sperminator, tells Elite Daily. "For the most part, his portrayal in the media has been unsavory, making him out to be a narcissist or a freak or a creep trying to populate the world. That's just not the man we met, and we felt it was important to bring that story to light."
Over the course of six months, Snow and his colleagues followed Nagel around as he fulfilled various fatherly duties, including babysitting and attending birthday parties, school events, and graduation parties. He even ran around New York City on Father's Day this year to partake in dozens of festivities with his children and their mothers. It's clear from the documentary that Nagel is not just the guy who supplied these women with a menstrual cup filled with jizz to insert into their cervix — he's a part of their family.
"You may not understand Ari's reasoning for doing what he's doing, but respect him and get to know why he's done it," Yvonne Harrison, mother to a child named Zoe (who Nagel sired), says in the documentary trailer. "Get to know the people that he's met, the bond that we've developed." Yvonne's wife, Tiffany Harrison, shares the same positive feelings about Nagel. She told The Post in 2016, "He's a lot of fun to be around, he loves people, he's outgoing, and he's gorgeous."
Snow admits his team had no idea what to expect when they first met Nagel. But after spending just a little bit of time with him, they were "spellbound." "He's quirky, charismatic, has a genuine desire to help others, and most of all, he truly loves being a father," Snow says.
I was lucky enough to get an advanced screening of The Sperminator in full, and the film truly does portray the humanity behind Nagel's seemingly seedy, under-the-table practice. He has always wanted a big family — he was one of seven children growing up in the Jewish Orthodox community of Monsey, New York — and the affection he feels for both his children and their mothers is heartwarming. He also seems to genuinely love helping women bring life into the world. Honestly, after watching The Sperminator, it's hard to believe that Nagel is the narcissistic weirdo the media made him out to be. Sure, in the past, he may have said some cringe things about what he does, like "I'm doing it anyway ... It's very easy for me to do" (ew) and "It's better when it's fresh" ("it" being his jizz). But the look inside Nagel's life that the documentary provides shows that he really is doing this out of the goodness of his heart.
"Our hope is that people can watch this with an open mind, embrace the discomfort, and gain a richer understanding [of] who Ari Nagel really is," Snow says. "It's easy to dismiss someone as strange; it takes much more effort to get to know them."
Catch screenings of The Sperminator in the festival circuit this season.
Check out the entire Gen Why series and other videos on Facebook and the Bustle app across Apple TV, Roku, and Amazon Fire TV.
Check out the "Best of Elite Daily" stream in the Bustle App for more stories just like this!