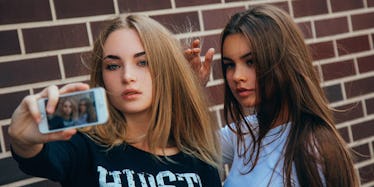 Science Says Teens Spend The Majority Of Their Time Looking At Screens
Before you read ahead, remember this: Never let anyone tell you who to love.
A study by Common Sense Media called "The Common Sense Census: Media Use by Tweens and Teens" investigated the relationship between US youth and media, and the results suggested the boys and girls of today want more to do with their devices than each other.
The research showed American teens ranging from 13 to 18 years old spend nearly seven hours on screens and roughly nine hours daily using media. This does not count media hours spent for school and homework assignments.
Younger kids, ranging from 8 to 12 years of age, spend more than four hours on screens and about six hours soaking in entertainment media.
While parents may assume their young ones are spending all this time on social media sites, most of the teens clocked just over an hour of time on sites like Facebook and Twitter; only a mere 10 percent named social media as their preferred activity.
Complex reports music was the draw for 37 percent of the females surveyed in the study, while video games drew 27 percent of males.
In any case, media is the new reality.
Citations: Study says U.S. Teens Spend 9 Hours a Day in Front of a Screen (Complex), THE COMMON SENSE CENSUS (Common Sense Media)