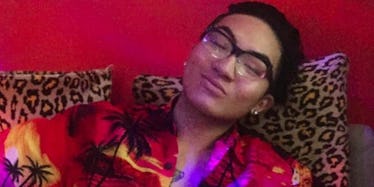 Teen Takes Eerie Last Snap Video Before Jumping To Death From Mall Balcony
Facebook
Distressing surveillance footage shows the moment a teen leapt to his death in a mall while filming a Snapchat video.
Jonathan Chow was attempting the stunt to impress his friends on social media, but accidentally fell to his death at the mall in Singapore.
In the clip released by the mall, Orchard Central, the 17-year-old and a female friend can be seen standing by a fourth floor ledge, when he suddenly jumps over the barrier.
According to the girl, identified by local news website TODAY as Ruth, his last words were,
Help me take a Snapchat video and I'll jump.
Four members of the public attempted CPR after finding Jonathan on the floor, and paramedics continued lifesaving efforts en route to hospital.
But Jonathan died shortly after arriving at Tan Tock Seng Hospital.
Ruth said,
We were window shopping for clothes and when we went to the bridge, he came up with the idea of doing the stunt. We both thought the ledge was made of concrete, but when he jumped, he fell straight through. I knew it was dangerous, but before I could stop him, he already jumped over. I swear I wanted to jump over too but I knew it was too late.
She is assisting police with their investigation.
Initial reports suggested Jonathan had accidentally dropped his phone over the edge and fell while trying to retrieve it.
But the surveillance footage shows Ruth getting out her phone just before the jump.
At a wake, his friends and family paid tribute to his cheery personality and sense of humor, TODAY reported.
His dad, Matthew Chow, said news of his son's death shocked him, but he did not blame the girl for what happened.
Jonathan had been studying in Australia, but returned to Singapore in December to await his national service.
Citations: Teen who fell to death from Orchard Central wanted a video taken: First-hand witness (TODAY)