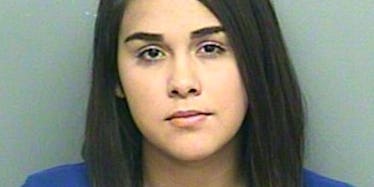 Teacher Impregnated By 13-Year-Old After He Seduces Her Through Instagram DMs
Police
Alexandria Vera was sentenced to 10 years in prison on January 13 after being found guilty of becoming impregnated by her 13-year-old student.
Vera, the 24-year-old who taught at Stovall Middle School in Houston, Texas, allegedly had a sexual relationship with the young teen, which supposedly lasted for nine months, USA Today reports.
According to court documents, the duo started chatting through direct messages on Instagram. According to Vera's claims, she met him during summer school in 2015.
He began asking for her Instagram handle, which she refused to give him at first. However, the persistent student found her account and requested her, but again, she declined.
When school began, Vera noticed the student was assigned to her English class. She claimed he flirted with her and said inappropriate things regularly throughout the school day.
Their relationship began shortly after the student did not show up to class one day during September 2015. Vera became worried about his absence and resorted to messaging him on Instagram, which ultimately led to the student asking for her phone number.
From that moment forward, the 24-year-old old teacher and her 13-year-old student hung out regularly and had sex.
KHOU reports Vera had pornographic photographs of the student on her phone and even allowed other students to have sex in her home.
The news outlet further claims — according a psychologist's testimony — Vera and the victim's father pretended to carry out a relationship to cover up the one with his 13-year-old. Court documents claims Vera and her student "love each other," and the teen's parents were in full support of the relationship, regardless of their age difference.
In fact, they were even supportive when she became impregnated by the teenager in January 2016.
As supportive as they might have been, Vera decided to have an abortion after school authorities began questioning her in February 2016.
They asked Vera about her relationship with the student, but she denied everything and allowed them to search her cell phone.
Vera was charged of continuous sex abuse of a child, but pleaded guilty to aggravated sex assault of a child.
She will face 10 years in prison.
Citations: Ex-teacher who got pregnant by student sentenced to 10 years (KHOU), Ex-teacher impregnated by 13-year-old sentenced to 10 years (USA Today), Aldine ISD teacher accused of sexual relationship with 13-year-old released from jail (Click 2 Houston)