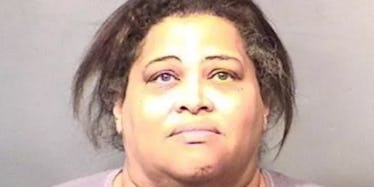 Teacher Fired For Biting Special Needs Student On His Back For 'Like A Minute'
Brevard County Sheriff's Office
Karen Williams, a third-grade teacher at Columbia Elementary in Palm Bay, Florida, has been fired after she bit a special needs student in 2015.
At a meeting on Tuesday night, the Brevard County School Board held a vote that terminated Williams' contract with the district.
The teacher, who was regularly rated "highly effective" in her annual evaluations, was originally put on paid administrative leave on December 3, 2015.
The victim told investigators his teacher put him in a "bear hug," and he attempted to get away by biting Williams on her right hand.
In retaliation, Williams then bit the child on his back "for like a minute."
The police report states after the teacher bit the child on the back, the student bit her hand again, still trying to get out of her grip.
The other students in the classroom didn't see William bite the child, but they saw her pull him into a tight hug. They also heard the student screaming, "My back, my back."
Over the front office phone, another worker at the school heard the student "screaming hysterically." When she arrived to the classroom, the student was crying.
The eyewitness claims the child had an oval-shaped red mark on his back below his left shoulder.
Police found the bite mark, which was adult-sized, on the back of the student. They also found fingernail markings on his right side.
Williams denied the allegations, but was arrested on December 10, 2015. She was charged with child abuse, which is a felony in Florida.
Her chargers were reduced to a misdemeanor for culpable negligence that inflicts injury.
On January 27, 2017, Williams was found guilty of the crime, allowing the school district to dismiss the teacher.
As per her professional service contract, the school district could only terminate the teacher if her evaluations were unsatisfactory, if she was grossly insubordination, if she willfully neglected duties or was convicted of a moral crime.
Citations: Teacher fired for biting special needs student (USA Today)