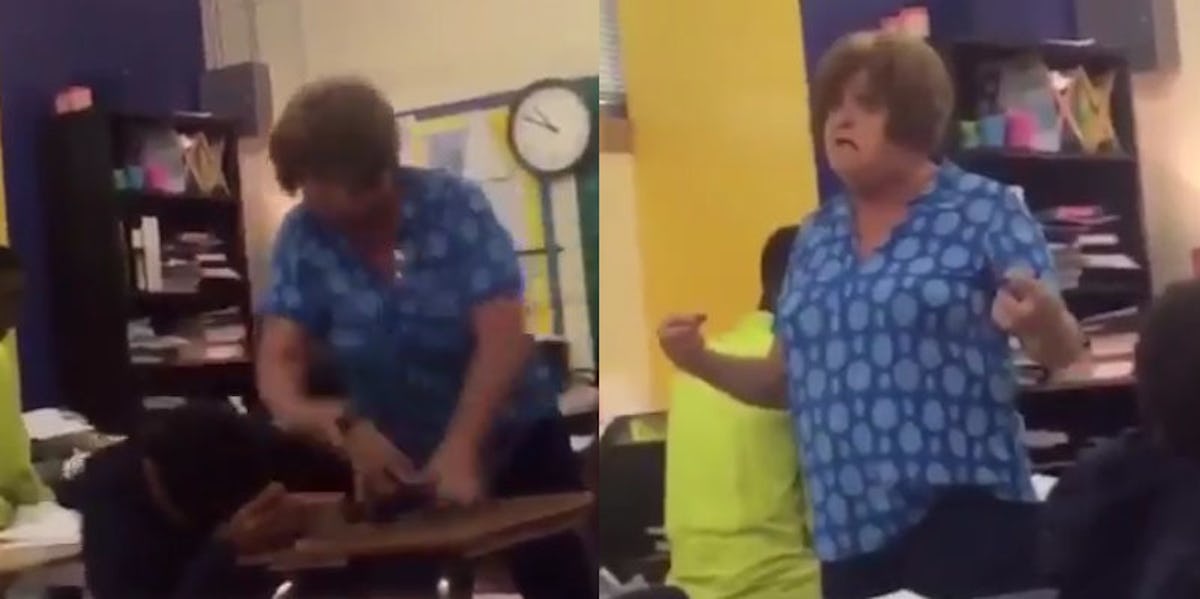 This Teacher Got Arrested After A Video Was Posted Of Her Hitting A Student
Twitter
A Texas teacher was arrested after video of her hitting a student was posted to social media.
On Friday, geometry teacher Mary Hastings apparently became enraged when a student reportedly asked about a grade in her fourth period class at Clifton J. Ozen High School in Beaumont, Texas, according to the Orlando Sentinel.
The video posted to Twitter on April 8 appears to show the 63-year-old hitting a student several times before calling him an "idiot ass."
What would you do if this was your teacher?! pic.twitter.com/D0ZlTDIHYN — WORLDSTARHIPHOP (@WORLDSTAR) April 9, 2016
It is unclear exactly what the student did to anger Hastings so severely.
Hastings was arrested later that day and charged with one misdemeanor count of assault.
She was released on $2,500 bond, and has since been placed on paid leave, CBS News reports.
Ozen High School, located about 90 miles east of Houston, released a statement saying,
The District is committed to providing a safe and secure environment for our students. [Beaumont Independent School District] does not condone employees abusing any child and will not tolerate such conduct. The teacher was immediately removed from the classroom and placed on administrative leave pending action on her contract.
Numerous students reportedly told 12 News Hastings does not have a violent or even strict reputation.
They reportedly described her as "caring" and "laid-back," though one student noted "students do give her a hard time sometimes."
Atyra Deroune, who witnessed Friday's incident, told 12 News,
She was a cool teacher -- she wasn't always mad. But when she was ready to teach us, for us to learn, she got serious.
The behavior exhibited in the video is very rare compared to Hastings' usual character, the 10th grader added.
Citations: Teacher arrested in Texas after alleged attack on student caught on video (Orlando Sentinel), Texas teacher arrested after video shows her repeatedly hitting student (CBS News), Student speaks out exclusively about Ozen High School teacher arrested (12 News)