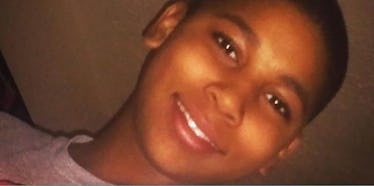 People Are Pissed About Why The Officer Who Killed Tamir Rice Was Finally Fired
Courtesy of the Tamir Rice Family
In 2014, 12-year-old Tamir Rice was shot and killed by Police Officer Timothy Loehmann, while playing with a toy gun in a Cleveland park near his home. After he was shot, he was left bleeding on the ground for nearly four minutes, reported New York Magazine.
In 2015, the Cuyahoga County grand jury chose not to charge Loehmann and his partner, Frank Garmback, even though Garmback has now started a 10-day suspension for "violating tactical rules" when he drove to the scene, according to CNN.
Apparently, Garmback drove up too close to Rice instead of maintaining an initial safe distance that would have allowed Loehmann to evaluate the situation before shooting.
Now, Loehmann has been officially fired from the Ohio police force, but not because higher-ups at the precinct had a change of heart about an innocent kid dying.
CNN reports that Loehmann has been exposed for lying on his original job application.
Loehmann had not mentioned any of the problems he previously had on the job prior to joining the Cleveland Division of Police.
His former boss, Deputy Chief Jim Polak of the Independence Police, wrote in Loehmann's file about his performance in 2012, as reported by Cleveland.com.
Polak wrote,
He could not follow simple directions, could not communicate clear thoughts nor recollections, and his handgun performance was dismal. I do not believe time, nor training, will be able to change or correct the deficiencies.
The Cleveland Division of Police did not review this letter or his file before hiring him.
Tamir Rice's mother, Samaria Rice, released a statement about the firing and 10-day suspension.
She wrote,
I am relieved Loehmann has been fired because he should never have been a police officer in the first place — but he should have been fired for shooting my son in less than one second, not just for lying on his application. And Garmback should be fired too, for his role in pulling up too close to Tamir.
People on social media are completely undone.
Once again, "justice" misses the entire point.
Firing Loehmann for lying on his job application sends the very old message that there are few, if any, consequences for shooting an unarmed person of color.
It reads as the willingness of police to accept only partial responsibility for excessive force — as if they can pick and choose how, when, and where to be held accountable.
The dishonest application was as disrespectful to his employers as it was to the citizens he was supposed to "protect and serve."
Loehmann paying for it with his job shows he can be punished for breaking the rules at work, but not for taking a life.