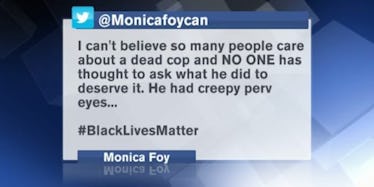 Woman Arrested On Warrant Soon After Tweeting A Deputy 'Deserves' Death
A Sam Houston State University student who famously sent an insensitive tweet about the death of a police deputy in Texas was reportedly arrested by authorities for an unrelated incident.
It all started on Friday when Darren Goforth, a deputy for the Harris County Sheriff's Office, was shot in an alleged ambush while he was pumping gas.
After news of Goforth's death spread, the public responded with an outpouring of support for those affected by the loss of the deputy.
I support our Law Enforcement officers!!! God Bless Deputy Darren Goforth Will pray for him and his family... — Casey Donahew Band (@caseydband) August 30, 2015
#WakeUpAmerica 1,000+ people join in final walk to honor slain Deputy Darren Goforth. May he RIP #LivesMatter pic.twitter.com/Bj2OpTQ6B0 — Lori Hendry (@Lrihendry) September 1, 2015
#Astros observe a moment of silence in memory of Harris County Deputy Sheriff Darren Goforth. pic.twitter.com/ClPqjMzIAr — Houston Astros (@astros) September 1, 2015
One Texas college student didn't exactly share the same positive sentiment about the deputy.
Monica Foy posted the following on her since-deleted Twitter page.
The tweet went incredibly viral, and Foy soon found her notification tab flooded with angry users calling her out.
I'm deeply disturbed & sickened by the comments made by Sam Houston student Monica Foy. She disgusts me! pic.twitter.com/0DunTyvm5n — DC Frank Carter (@DCFrankCarter) September 1, 2015
@BreitbartTexas @terry_crafton God Almighty will judge Monica Foy and all those who are inciting hate. You're destroying America with hate. — Mardo Jiménez (@MardoJimenez) September 1, 2015
Monica Foy should be MADE to remember her hatred for #LawEnforcement. Ban HER FROM USING 911 if she needs help. pic.twitter.com/8z01KM9zO5 — Cole Phelps (@CPhelps_1247) September 1, 2015
The Montgomery County Sheriff's Office confirmed officers arrested Monica Foy on Tuesday night for an unrelated assault warrant in Harris County. According to KBTX, Lieutenant Brady Fitzgerald said,
Around 7:30 pm our agency received a call from someone making us aware of the warrant. We confirmed it was active. We went to her home and she was taken into custody without any problems.
People online seem to be pretty happy about Monica's slightly ironic change of circumstance.
Karma for triple chins! Woman who tweeted that a TX deputy deserved 2 be executed was arrested 4 assault. Monica Foy: pic.twitter.com/dmel7NN9RG — Jennifer (@jensicilian) September 2, 2015
Remember Monica Foy who mocked the Harris County Sherrif's death? Here's her mugshot from last night pic.twitter.com/MwSxTIyNrF — Ulysses (@Just_a_Texan) September 2, 2015
Monica Foy was arrested tonight in Montgomery County on an outstanding warrant. Gotta love karma (like Monica loves cake). #monicafoy — JustOwnIt70 (@JustOwnIt70) September 2, 2015
Sam Houston State University also expressed support for the law enforcement community since the story unfolded.
#SHSUBacksTheBlue #SHSU pic.twitter.com/QtJwmi0UW4 — Sam Houston State (@SamHoustonState) September 1, 2015
You can watch KBTX's full report below.
Citations: SHSU Student Under Fire For Social Media Comments Arrested For Unrelated Warrant (KBTX)