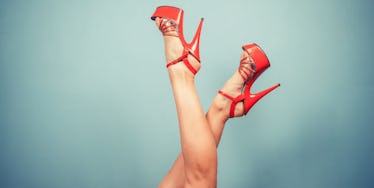 Stripper Assaulted A Man After He Told Her She Needed To 'Lose Weight'
Getty Images
A stripper reportedly assaulted a customer after he told her she needed exercise.
According to The Smoking Gun, 23-year-old Kyle Yeomans told police he was attacked at Derriere's Gentlemen's Club in Myrtle Beach, South Carolina at 1:45 am on Sunday.
He admitted to having an intoxication level of "11 out of 10" at the time, according to the police report.
The report reads Yeomans said the stripper "was annoying him" and "kept trying to talk to him, and he was tired of it."
He identified her as white, probably under 25 and between 115 to 120 pounds.
When she refused to leave him alone, Yeomans apparently told her to "go to the gym and lose weight."
Describing her to police, he noted the stripper had a "muffin top."
Police wrote the stripper then "struck [Yeomans] four times in the face" before bouncers dragged him out of the club.
Yeomans called police about 17 hours after the attack to make a report rather than press charges. He was discovered to have numerous facial injuries that were likely due to a ring the stripper was wearing.
A police officer went to the club Sunday evening to investigate the allegations, but Derriere's was closed at the time.
Citations: Never Tell A Stripper She Is Overweight (The Smoking Gun)