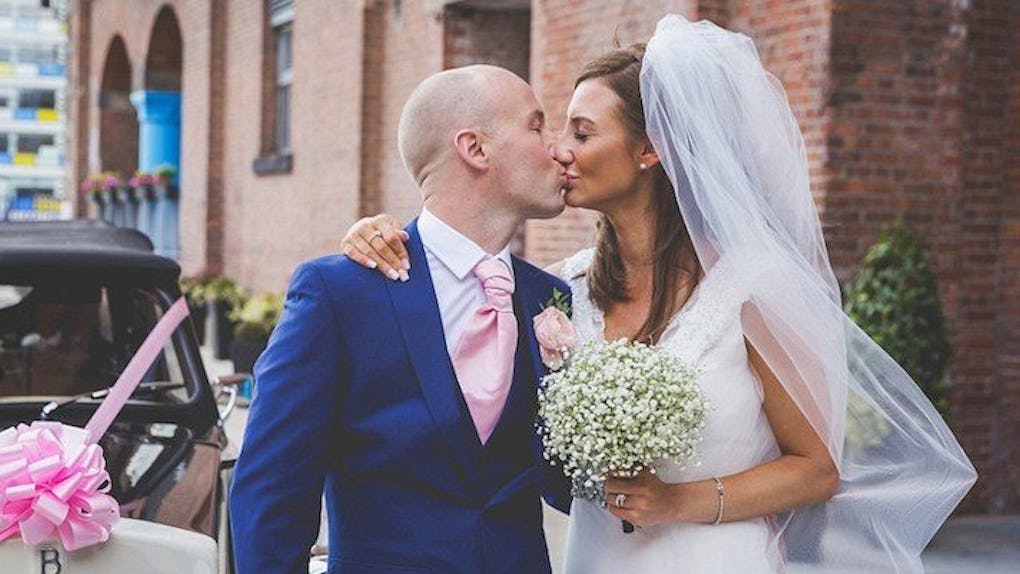 Steve Grogan Photography
Strangers Fund Dream Wedding For Groom Diagnosed With Terminal Cancer
Steven Monks was planning for a house and wedding with his fiancée, Laura, when he was diagnosed with terminal cancer.
The couple, who originally planned to buy a home before getting married, faced a difficult decision: They could either rush to wed in a ceremony far less extravagant than they'd hoped and lose the money they'd saved for their house, or they could skip the wedding completely.
Little did they know, there was a third option from Gift of a Wedding, a UK-based charity that uses community donations to plan weddings for couples facing difficult circumstances.
Laura contacted the charity and told them about Steven's illness. A short time later, they were approved, and the donations for their big day began rolling in.
This past weekend, the loving couple tied the knot in a beautiful ceremony at a hotel in Manchester.
Everything from the dress to the cake to the invitations and a Rolls-Royce for transportation was donated by local businesses and strangers.
It was, all told, a dream wedding.
Steven is now on palliative care and, unfortunately, doctors say his time left is limited. But the fact that he and his wife were able to celebrate their love in a beautiful wedding they both dreamed of is something they'll both treasure forever.
Watch the video below to see the pair's beautiful ceremony.
Citations: Couple have their entire wedding paid for by strangers after groom is diagnosed with terminal cancer (Daily Mail)