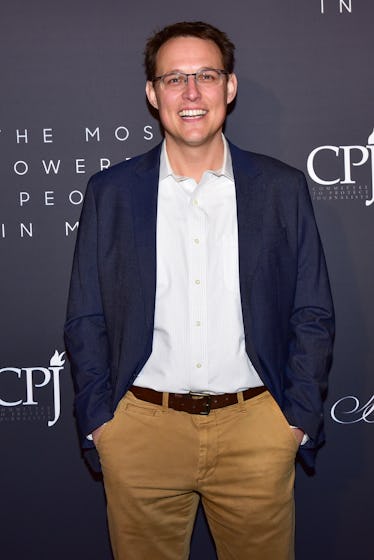 Steve Kornacki And His Khakis Appeared At The Olympics And Fans Lost It
I'm having flashbacks to the 2020 election.
Sean Zanni/Patrick McMullan/Getty Images
The Tokyo Olympics have officially commenced, and people all over the world have tuned in — but not just for the event itself. As it turns out, reporters and hosts are getting a ton of love, and everyone's eye is on one familiar face. These tweets about Steve Kornacki covering the 2021 Olympics are hyped, and honestly, I respect it.
As a political journalist, writer, and television host, Kornacki has done more than his fair share of news coverage. From Football Night In America on NBC to the 2020 presidential election, he's been through it all with America. Now, Kornacki is back to help cover the Tokyo Summer Olympic games, and everyone on Twitter is pumped about it. I mean, what kind of world would it be if we didn't have a friendly, familiar face guiding us through the world's biggest moments?
Kornacki gained a whole lot of fans back in November 2020, when he was essentially a permanent fixture on TV for the several days it took to get confirmed results in the 2020 presidential election. While some Twitter users now are gushing over Kornacki's signature khakis-and-tie look, others are having flashbacks of when he dutifully crunched the election numbers. Dubbed a "human calculator" by co-host Rachel Maddow, Kornacki went viral for his on-the-spot (and accurate) number crunching, as well as his tireless work ethic. According to a November 2020 NBC interview, he "stayed up [for two] straight days for the election, powered by Diet Coke and passion." Seeing him host the Olympic Games is a major throwback for a lot of people, but in the best way possible.
The Olympics are being highly scrutinized for continuing through the COVID-19 pandemic: Japan's vaccination rates are relatively low, there's been a recent spike in cases, and Tokyo declared a state of emergency on July 8, just weeks before the opening ceremony.
But even amid this turmoil, people all over the United States are still excited about seeing Kornacki back in his element — and in his signature khaki fit. Who knows? Maybe, once again, he'll defy the odds to come through with the answers that will help everyone actually figure things out.