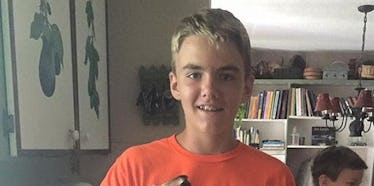 Dad Who Accidentally Shot And Killed His Son Makes Heartbreaking Statement
GoFundMe
A father who accidentally shot and killed his son has said, "The gun didn't kill my boy. I did."
Stephen Brumby, 14, died on Sunday at a shooting range in Sarasota, Florida.
Police are investigating the death but so far no charges have been brought against Clayton Brumby, 64, who was fishing a hot casing out of his shirt when he pulled the trigger.
The bullet hit the ceiling and struck his son.
In a heart-wrenching move, Clayton spoke about the incident to raise gun safety awareness. He told CNN,
Every round in the gun is your responsibility. When it fires you need to stand to account for it it. That's what I've spent the last two days doing, accounting for my operating error. It was a very freak accident. I made a mistake. It doesn't take but a split second for something to go wrong, it could be with the wrong medicine, it could be with any number of things.
The family paid tribute to Stephen, describing him as "a meteor that couldn't be contained."
A GoFundMe page has been set up to help raise money for funeral costs. It's already smashed the goal of $10,000 and is currently at $17,000.