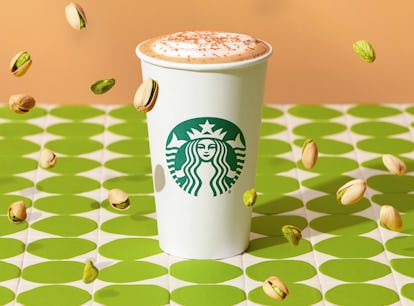 9 Hacks To Customize Your Pistachio Latte From Starbucks All Winter Long
Which twist will be your 2022 go-to?
Courtesy of Starbucks
The Starbucks winter menu for 2022 hit stores nationwide on Tuesday, Jan. 4, and fans were pleased to see the Pistachio Latte back in the lineup. And now that the beloved latte, which returned for its second year, is here, it's time to customize the drink just the way you like it. To help celebrate the return of the cozy season staple, try these six Pistachio Latte hacks for new takes on the winter sip.
Bye bye, New Year Scaries (is that a thing?), because the return of the Pistachio Latte means 2022 just got a whole lot sweeter. In case you need a refresher, the Pistachio Latte, which debuted on Jan. 5 2021, is made with Starbucks' Signature Espresso, flavors of pistachio, steamed milk, and finished off with a brown buttery topping. The winter menu fave will be available at U.S. Starbucks locations from Jan. 4 through the rest of the winter while supplies last, according to an email from Starbucks to Elite Daily.
While the fan-favorite sip is delicious as it is, there's no harm in putting your own unique spin on the classic cuppa, either — especially when you've got an entire season of pistachio-flavored sips ahead of you. Keep your Pistachio Latte tasting fresh all winter long with these customization hacks from Starbucks and thank me later.
The New Year just got a little more sweet (and salty), thanks to the return of the Starbucks Pistachio Latte. If you're picking up your cuppa in person, remember to check CDC guidelines for the most updated health rules.